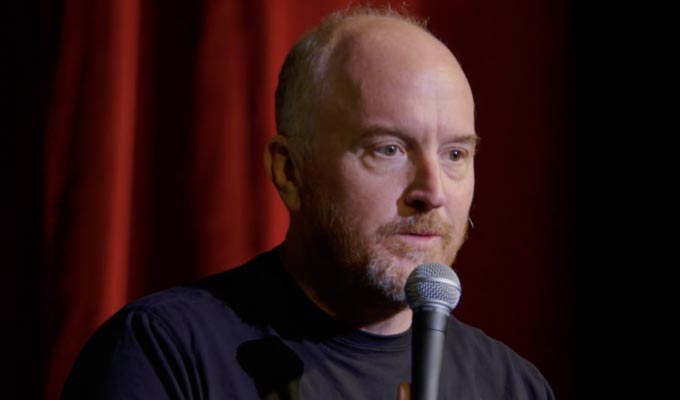 Louis CK nominated for a Grammy
Louis CK has been nominated for a Grammy award, four years after sexual misconduct allegations were thought to have torpedoed his career.
The comic's album Sincerely Louis CK was the first special he recorded since 2017, when several women came forward to accuse him of inappropriate behaviour, including masturbating in front of them At first he played down the incidents, but later conceded he had used his power in the comedy industry 'irresponsibly'.
He released the special unexpectedly in April last year, and told the Washington DC audience: ''How was your last couple of years? Anybody else get into global amounts of trouble?'
CK briefly addressed the scandal – or at least how it had impacted on his life – before moving on.
Sincerely Louis CK has been shortlisted in the comedy section of the Grammies alongside Lavell Crawford's The Comedy Vaccine, Chelsea Handler's Evolution, Lewis Black's Thanks For Risking Your Life, Nate Bargatze's The Greatest Average American and Kevin Hart's Zero F***s Given.
In most years, Bo Burnham's Inside might have been expected to be a strong contender in the category, having topped the Billboard comedy album chart for months.
Instead, The Recording Academy that hands out the Grammies previously deemed the work ineligible for the award, and instead made the controversial decision that it should instead be considered for 'best compilation soundtrack for visual media'.
But voters did not put it forward for the shortlist, which instead includes the soundtracks for Cruella, Dear Evan Hansen, In The Heights among others, all of which better fit the category title.
Inside is however up for 'best music film' – while Burnham's song All Eyes On Me is up for 'best song written for visual media'.
Dave Chapppelle is also up for the best spoken word album for his 8:46 special released during lockdown and inspired by the murder of George Floyd - but he faces tough competition in category that also includes Barack Obama's A Promised Land.
The shortlists understandably triggered some backlash on social media:
Louis CK, Kevin Hart, and Dave Chappelle were all nominated for Grammys?

If this is "cancel culture," may every woman comedian I know be cancelled instead of simply underpaid and unrecognized. 😒

— Adrienne Lawrence, Esq. (@AdrienneLaw) November 23, 2021
Isn't Louis CK one of the examples some people use of how harsh and awful "cancel culture" is?
Or is he actually living proof that CANCEL CULTURE IS NOT A THING https://t.co/0Fbz5njnDB

— Celeste Headlee (@CelesteHeadlee) November 23, 2021
Marilyn Manson and Louis CK were both nominated for Grammies today. A long time ago I used to keep a running document of all the accolades and new jobs that were given to men who had been publicly accused of sexual abuse, but it got too long and became corrosive to my soul. 🙃

— Moira Donegan (@MoiraDonegan) November 23, 2021
The Grammy awards will be given out on January 31 at the crypto.com arena in Los Angeles.
Published: 23 Nov 2021
Recent News
What do you think?