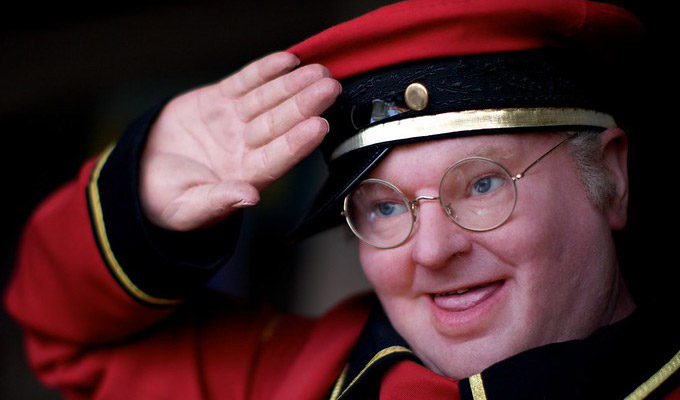 Benny Hill is back on TV
The Benny Hill Show is returning to TV tonight after an absence of almost 20 years.
Nostalgia channel That's TV Gold is to air the comedian's work from his time at Thames TV from 1969 to 1989.
The reruns will form part of the festive schedule on the Freeview channel, which is being renamed That's TV Christmas for the season.
TV specials from Kenny Everett, Mike Yarwood, Tommy Cooper and the Carry On team are also part of the schedule, alongside rare repeats of prank Show Beadle's About.
The channel launches under its new name at 9pm tonight, starting with a double bill of The Benny Hill Show – the first in a seven-week run.
Hill was a prime-time star for four decades, first on the BBC and then on ITV – attracting a bigger audience than the moon landing. And he was one of the biggest ever British TV exports, with his shows seen in more than 140 countries.
But he was unceremoniously dumped by broadcaster Thames in 1989, with executives worried about rising production costs and the fear that Hill was becoming 'tired'. At the time the comic had earned the company an estimated £100 million and his final episode attracted 9.58 million viewers.
He is often cited as a victim of 'political correctness' as his shows were seen as being sexist and out of time. He died three years later in his sparsely furnished flat in Teddington.
The rights to his TV shows, which are controlled by his Estate and Thames TV, have not been licensed to any UK broadcaster for nearly 20 years.
Nonetheless, Hill is still cited as an influence by many modern comedians. In 2017, David Walliams tweeted: 'I wish Benny Hill was celebrated more on TV'; Tim Vine has called him 'hugely underrated' and Ben Miller has said: 'His early work was ground-breaking'.
When Hill died, American actor Jack Lemmon said: 'In recent years my favourite comedian above all was Benny Hill, who was a master in his field. Most comedians deliver a barrage of powder puffs; Benny gave you a cannon shot.'
That's TV Christmas's head of programming, Kris Vaiksalu, said the show is 'part of our national cultural heritage' adding: 'Our viewers have inundated us with requests to show Benny Hill and we're thrilled to be able to make this Christmas wish come true.'
Other shows to air on the channel in the coming weeks include:
Carry on Christmas – four festive s specials from the Carry On crew made in 1969, 1970, 1972 and 1973
Mike Yarwood Christmas Specials – the rights to the impressionist's specials from 1982, 1984 and 1985. Though rarely repeated, his Christmas shows attracted more viewers than Morecambe and Wise at their peak
Kenny Everett's New Year Specials from 1978, 1979 and 1980 with guest stars including Rod Stewart, Cliff Richard, David Bowie, David Essex, Billy Connolly, Bob Geldof and The Sex Pistols. Plus special programming originally made for video release and never shown on TV starring friends including Cleo Rocos and the late Lionel Blair
Beadle's About, the hidden camera show presented by Jeremy Beadle for ten years from 1986, and again not seen on British TV for about 20 years.
Tommy Cooper – a selection of specials from the comedy magician
That's TV Christmas is available on Freeview channel 91, Sky channel 187 and Freesat channel 178. Many That's TV Christmas shows will also be available on That's TV's local TV network which is available in certain areas of the UK on Freeview channel 7 or 8.
Published: 18 Nov 2021
Recent News
What do you think?