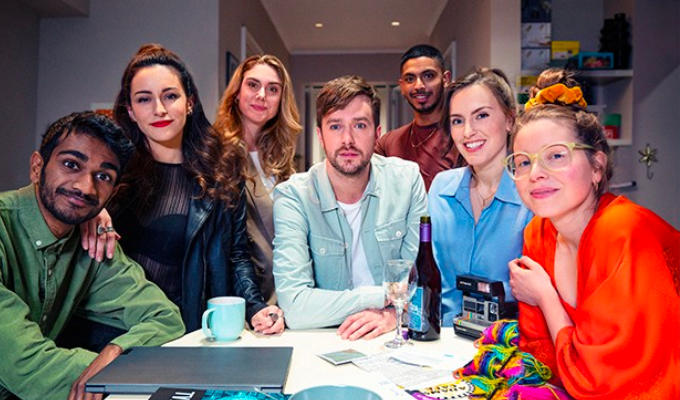 Iain Stirling is Buffering
Here's our pick of the week's best comedy programmes on TV, radio and on-demand:
Now
JERK: The second series of Tim Renkow's semi-autobiographical comedy about a man with cerebral palsy who can't help but cause mischief has just landed on iPlayer. Read a Q&A with Renkow and the rest of the lead cast here.
JIMMY CARR - LAUGHING AND JOKING The comic has put his full 2013 stand-up show, full of his usual bad-taste jokes, on YouTube for free. Here it is:

Sunday August 1
BLIND AMBITION: Blind comedian Jamie MacDonald teams up with nearly-blind TV director Jamie O'Leary to see how other visually impaired artists - including a woodturner and a photographer - do their jobs in this one-off documentary. BBC Two, 10pm
TESSA COATES: RESTING WITCH FACE: The comic, who has an 'absolutely useless' degree in anthropology, combines storytelling with academic research in her Radio 4 special, based on her 2018 Edinburgh show (reviewed here.) Radio 4, 7.15pm
Monday August 2
THE LEARNERS: Kiri Pritchard-McLean's first sitcom is based on her experiences joining a Welsh language class and features a strong array of co-stars from the comedy world including Les Dennis, Mick Ferry, Janice Connolly, Tudur Owen, Kath Hughes and Ed Easton. BBC Radio Wales, 6.30pm
Tuesday August 3
ALAN DAVIES: AS YET UNTITLED In this week's episode, Helen Bauer, Rachel Fairburn, Phil Wang and Harry Hill share stories of a petulant MP, a brusque burlesque dancer from Essex and a room of rowdy revellers desperate for beds. Dave, 10pm
BLACK MONDAY: The third series of the US comedy-drama about Wall Street traders, starring Don Cheadle and others, arrives on Sky Comedy with a double-bill.Sky Comedy, 9pm
Thursday August 5
BUFFERING: In this semi-autobiographical sitcom, Iain Stirling plays a kids' TV presenter, also called Iain, in a complicated relationship with a TV producer, played by Elena Saurel. It is co-written with fellow stand-up Steve Bugeja and features a host of comedy names, including Jessie Cave, Paul G Raymond, Rosa Robson, Janine Harouni, Lolly Adefope, Michael Spicer, Nigel Ng, Alistair Green and Joel Dommett. ITV2, 10pm
Friday August 6
ELLIE TAYLOR'S SAFE SPACE: The comic fronts this show where anyone can offload their controversial opinions without fear of judgment. She talks to members of the public about their gripes and then reveals one of her own - that parties are awful and should be banned. She is joined by sidekick Robin Morgan, the comedian who also co-writes the show, and guest Ella Al-Shamahi, author of The Handshake: A Gripping History. Radio 4, 11am
MEATBALLS Before Ghostbusters, Bill Murray teamed up with director Ivan Reitman for this 1979 comedy set in an American summer camp where Murray is Tripper, a counsellor with a weird sense of humour. It was the highest-grossing Canadian film of all time across North America - and for a broad teen comedy rates a respectable 72 per cent on Rotten Tomatoes. Film 4, 23:40
Published: 1 Aug 2021
What do you think?