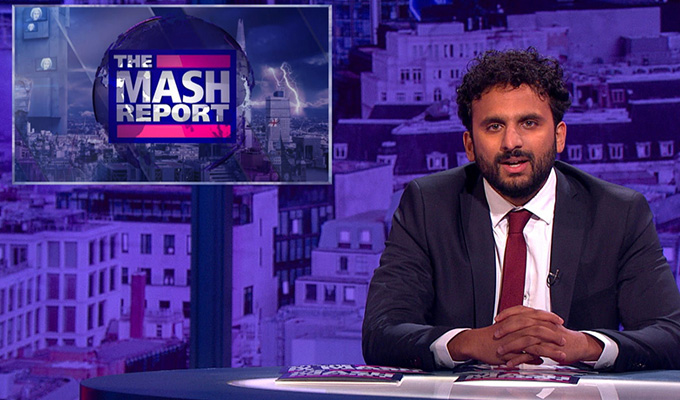 Mash is back on the menu
The Dave TV channel has revived The Mash Report after it was axed by BBC Two.
Nish Kumar will return to host nine hour-long episodes, now retitled Late Night Mash, from the autumn.
The comic said: 'Mash is rising from the dead. I'm not saying I'm Jesus, I just look more like him than most images would have you believe.'
Regulars Rachel Parris, Ellie Taylor, Geoff Norcott and Steve N. Allen will all be returning for the new series, too.
The programme ran for four series on BBC Two from 2017 but was increasingly targeted by right-wing commentators over its perceived left-wing bias.
It was axed in March last year a fortnight after the BBC's new director-general, former Conservative coucillor Tim Davie pledged represent a wider range of viewpoints.
At the time the BBC said it was to 'make room for new comedy shows' – but there was suspicion it was axed for political reasons. Earlier this year Kumar said in an interview: 'The concern for me is that it's a useful myth for Tim Davie to have out there, because it placates the British right. It gives the sharks a bit of blood.'
Mark Iddon, who commissioned the new run for Dave's parent company UKTV said today: 'Mash Lives! We couldn't be happier to be working with Nish and the rest of the team over at [production company] Zeppotron.
'Mash has always been a show that has taken risks and brought top comedy talent to our screens. It's relevant, reactive and we can't think of a better new home for the show than Dave.
And executive producer Chris Stott said: 'The last 18 months has been a worrying and stressful time for millions of Britons, mainly because they were unsure if Mash would ever return to our screens. But it has, so everything's fine again.'
Late Night Mash production credits
Made by: Zeppotron and with The Daily Mash website.
Commissioned by: Mark Iddon, commissioning editor, and Iain Coyle, head of comedy entertainment, and Cherie Cunningham, Dave channel director.
Executive producers : Chris Stott, Ruth Phillips and Peter Holmes.
Published: 28 Jul 2021
What do you think?