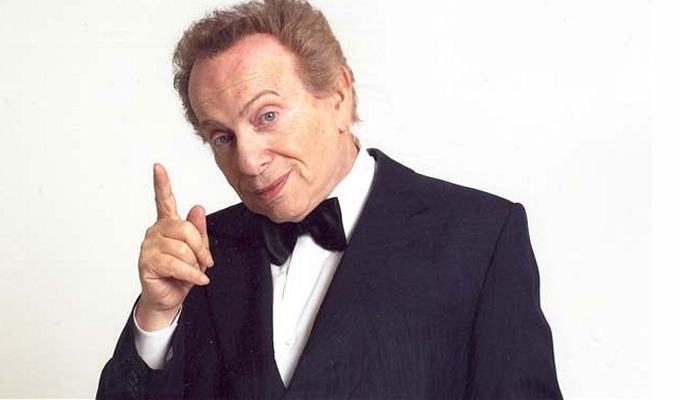 Jackie Mason dies at 93
Veteran comedian Jackie Mason, who maintained and expanded the tradition of American-Jewish 'Borscht Belt' comedy, has died at the age of 93.
His friend Raoul Felder told several US news outlets that the comic died in his sleep in a Manhattan hospital after experiencing breathing difficulties.
Over a long career, the former rabbi had several one-man stand-up shows, appeared in Caddyshack II and was the voice of Rabbi Hyman Krustofsky, Krusty The Clown's dad, on The Simpsons.
But he also became known for his controversial views.
Mason was born to Bealrusian parents in Wisconsin and originally called Yacov Moshe Maza. He raised on the Lower East Side of Manhattan, surrounded by rabbis and was himself ordained at the age of 25.
Three years later, he quit his synagogue to become a comedian because, as he said: 'Someone in the family had to make a living.'
He started in showbusiness as a social director at a resort in the Catskills, the resort once popular with Jewish families from New York where a generation of comedians found their break.
From appearances on TV talk shows, his fame and his notoriety grew. In 1964, he was banned from the Ed Sullivan show for two years when he allegedly gave the host the finger when signalled to to wrap up his act.
More trouble came two years later when an unidentified gunman fired pistol into his Las Vegas hotel room in what was thought to be a warning about the jokes he was making about Mob favourite Frank Sinatra's marriage to the much younger Mia Farrow.
He was the master of comic anger, but also joked about his own insecurities. One of his most famous lines was: 'I used to be so self-conscious that when I attended a football game, every time the players went into a huddle, I thought they were talking about me.'
And he once described his humour as 'a man in a conversation, pointing things out to you. He's not better than you, he's just another guy.'
Mason's career took off in the 1980s thanks to the hit Broadway stand-up show The World According to Me, earning him both a Tony and Emmy. He returned to Broadway in 1990 and four for more shows.
But his unPC comedy - and views off-stage - were not without controversy. In 2015, he complained that free speech is 'only for black people and homosexuals'.
And in his 2021 Desert Island Discs appearance, he declared racism over, saying: ''I don't think it's such a terrible disadvantage to be black or Jewish today. But… they still can't accept the fact that they are completely accepted everywhere - it's all in their minds.'
In 1989, he was reported to have used a Yiddish racial slur when talking about David Dinkins, who was standing for New York mayor against Rudy Giuliani, who Mason backed.
Paying tribute last night, playwright Harvey Fierstein said: 'A comic genius and a pain in the ass. This man could get a laugh reading the weather. His rhythms and delivery were master classes in comedy. Farewell, Jackie. Farewell.'
Welsh-Jewish comedian Bennett Arroon tweeted: 'How sad. Jackie Mason was a very funny and quick witted observational comedian. And fantastic as Krusty's Dad in The Simpsons'
He leaves a wife Jyll Rosenfeld, who also served as his manager, and a daughter, Sheba Mason, who also became a comedian.
Published: 25 Jul 2021
What do you think?