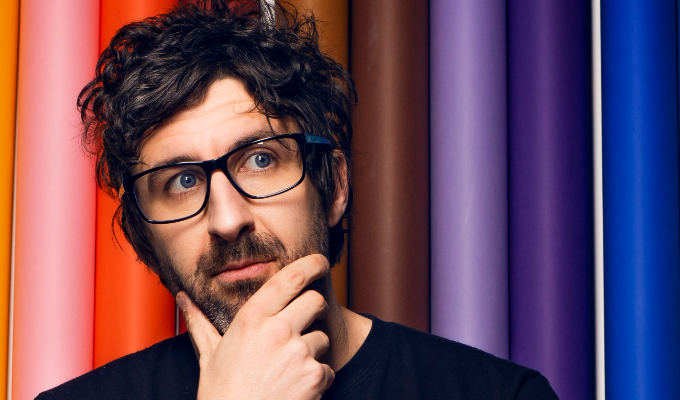 Pleasance and Gilded Balloon unveil their Fringe programmes
The Pleasance and Gilded Balloon have become the latest major Edinburgh Fringe players today to announce their August programme.
Mark Watson, Ivo Graham, Hal Cruttenden, Joe Thomas, and Eshaan Akbar are among the comedians to be playing the pop-up venue at Pleasance Courtyard.
While the Gilded Balloon's offering includes shows from Shappi Khorsdandi, Fred McAulay and Scot Squad star Jack Docherty.
Watson 'crams a couple of years' worth of pathological overthinking' into his new show, This Can't Be It, in which he considers that at 41, he is halfway through his days on earth, according to his £1.49 life expectancy app.
Yesterday, the Monkey Barrel comedy club also said that Watson would be performing some special shows there, but has not yet given any further details.
Meanhwhile, Thomas, who played Simon in The Inbetweeners will be performing his debut stand-up show Trying Not To Panic.
Also at the Pleasance, Hyper Reality is a 'shambolic new hour of frantic domestic updates' from the Edinburgh Comedy Awards 2019 nominee, Ivo Graham; Njambi McGrath will be reprising her show Accidental Coconut about her place in the world and her place in Britain, from the other side of the Empire' and Fringe veteran Hal Cruttenden will be back with his new stand-up show It's Best You Hear It From Me.
Brennan Reece will present greatest hits from his trilogy of shows Everglow, Everlong and Evermore and double act Shelf present a show that incorporates musical comedy, and slam EDM to tell the story of one bizarrely life changing haircut.
Adam Rowe, Tessa Coates, Jake Lambert, Jake Farrel Rajiv Karia and Eshaan Akbar - whose new show will be called I've Never Heard of You, And I Think You're a Plonker – are all performing work-in-progress shows, too.
At the Gilded Balloon, Docherty will be performing festival with Nothing But, a theatre show describe as a 'tender, playful, darkly comic tale, where he grapples with lost youth, infatuation, fatherhood, sex, secrets and truth'.
Khorsandi, using her full first name Shaparak, returns to the Fringe with a preview version of her now tour show It Was the 90s! while MacAulay will be hosting a chat show.
Also Jay Lafferty brings her show, Blether to the venue while Spontaneous Potter perform their unauthorised, improvised show.
Earlier, Underbelly and Assembly announced their first Fringe shows, too.
What's happening at this year's Edinburgh Fringe?
Chortle's Fringe listings
Published: 22 Jul 2021
What do you think?