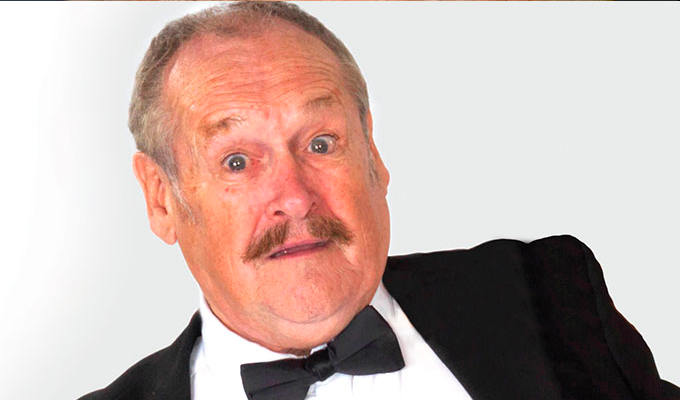 Revealed: What the Bobby Ball statue will look like
The statue of Bobby Ball will feature the comic as he was aged 40, with a 'twinkle in his eye' and in his familiar 'Rock On Tommy' stance, tugging on his braces.
London-based sculptor Ben Twiston-Davies has just been commissioned to produce the statue, which will sit in his home town of Lytham St Annes, near Blackpool.
The artist – who previously made the Agatha Christie memorial near Leicester Square tube station in London – was unanimously chosen from a shortlist of four by the comedian's family, the local council and the trust which runs the gardens where it will be erected
No image has yet been release of the proposed design, but it will be one-and-a-half times his actual 5ft 2in height and depict him with one leg forward and slightly pulling on his right brace with his right thumb.
Flyde council leader Karen Buckley said: 'Bobby was a very special, incredibly talented and unique individual who was truly adopted by the locals of Lytham St Annes.
'His lasting legacy of kindness and joy means he will be sadly missed and this statue will ensure he can go on giving that joy to visitors and residents of the area long after Bobby took his final bow and left the stage.'
Ball - known for his long partnership with Tommy Cannon and later roles in the likes of Lee Mack sitcom Not Going Out - died in October at the age of 76 after contracting coronavirus.
The Lowther Pavilion, the theatre next to the gardens where the statue will be erected, are hoping to raise £100,000 to pay for it through crowdfunding, and are currently just over a quarter of the way to their target.
Theatre manager Tim Lince said: 'The whole team at Lowther 100 per cent supports this idea.
'He was more than just a local comedian for our theatre. Bobby was a great supporter and helped us fundraise. Hhe wasn't just supportive of the professional acts, but the amateur groups as well.
'He was a real community player, and he would often drop in with his mischievous laugh coming down the corridor. He is a great, great loss to Lowther. The volunteers, the staff and everyone else would like to see something done to honour his memory.'
Published: 22 Jul 2021
What do you think?