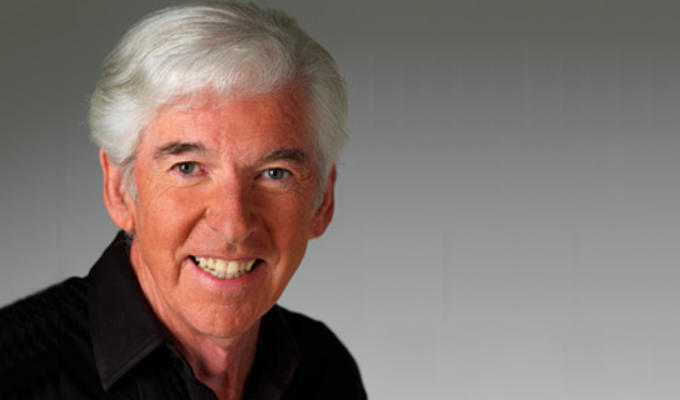 Tom O'Connor dies at 81
Comedian Tom O'Connor has died at the age of 81, his family has said.
The Merseyside stand-up turned gameshow host died in Wexham Park Hospital in Slough this morning.
His daughter-in-law, the former athlete Denise Lewis, said he had suffered from Parkinson's for about 14 years
A former teacher, he started his showbusiness career as a singer, nut got his break on TV talent show show Opportunity Knocks as a comic.
He achieved greater fame on stand-up showcase The Comedians, alongside the likes of Bernard Manning, Stan Boardman and Roy Walker and went on to host Name That Tune, Crosswits and the lunchtime programme The Tom O'Connor Show in the 1970s and 1980s.
In later life, he made guest appearances on Countdown more than 100 times.
His son Steve Finan O'Connor said: 'Tom was famously known for a brand of humour that was 100 per cent clean and always totally family friendly.'
Among those paying tribute today were fellow comic Jimmy Cricket, who said: 'Tom's razor sharp observations and impeccable timing made him one of the all time greats! Our thoughts and prayers go out to Pat and all his family.'
Moris Bright, the chairman of Elstree Studios added: 'Deeply saddened Tom O'Connor has died. Nicest person I've met in the business. Great supporter of British comedy & charity too'
And showbiz historian Louis Barfe said: 'I'm pretty sure Tom O'Connor was the originator of the "If you break both your legs, don't come running to me" gag. He had a great ear for the silly things people say. Particularly kids, unsurprisingly, given he had been a teacher.
In his show, 41st Best Stand Up, Stewart Lee also had a routine about his mum seeing O'Connor on a cruise ship and being impressed by his quick-witted professionalism as 'proper' comedian
O'Connor leaves a wife and four children.
Published: 18 Jul 2021
What do you think?