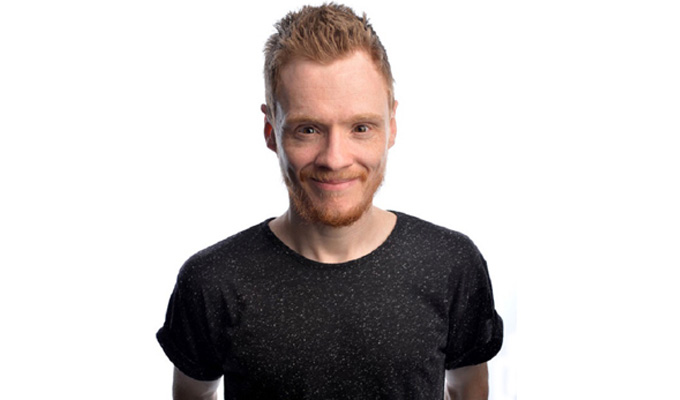 Andrew Lawrence: Now his agent drops him
Andrew Lawrence's agents have dropped the comedian following his racist jokes about England's black footballers.
The stand-up made a number of offensive tweets following last night's penalty shoot-out – leading to a swift backlash from the comedy world.
Gigs have been pulled, leaving his forthcoming tour in tatters, and his Twitter account has been deleted – or suspended.
Lawrence's legion of critics had approached venues asking for his shows to be cancelled, and asked his agents RBM, and their other clients, whether they were happy to be linked to the comic,
And when Chortle asked for comment, RBM founder Richard Bucknall said: 'We no longer represent Andrew Lawrence.'
Lawrence's comments came as police investigate racist abuse directed at Bukayo Saka, 19, Marcus Rashford, 23, and Jadon Sancho, 21, following England's 3-2 shootout loss at Wembley last night.
As news reports about the abuse broke, Lawrence tweeted: 'All I'm saying is, the white guys scored', which he quickly followed up with: 'Equality, diversity, shit penalties.'
Later on he doubled down by adding: 'I can see that this has offended a lot of people, and I'm sorry that black guys are bad at penalties.'
Lawrence later admitted he was 'getting a lot of abuse' for the tweet, saying 'Hate won't win guys'.
Fellow comics quickly condemned his outburst, and venues for his forthcoming tour, including the Hanger Farm Arts Centre in Hampshire, Worcester's Huntingdon Hall and Rosehill Theatre in Cumbria cancelled his appearance.
Many clubs also said they have blacklisted him.
Scallywags Comedy Club in Gloucestershire said: 'We today, like many others I'm sure, Have pulled Andrew Lawrence from a show he was set to do for us. Racism isn't expectable in any form.'
And Chesham Comedy Club in Buckinghamshire tweeted to him: 'I know you won't particularly care, but we at Chesham Comedy club will not tolerate racism in any form so please consider your booking with us cancelled.'
Lawrence has tried forge a niche attacking 'woke libtards' since becoming something of a pariah in the comedy world seven years ago for notorious social media posts.
He called immigration an 'unmitigated disaster' and attacked panel shows for using 'ethnic comedians and women-posing-as-comedians… taking a supercilious, moralising tone, pandering to the ever-creeping militant political correctness of the BBC with their frankly surreal diversity targets.'
Governing body Uefa has condemned the 'disgusting racist abuse' directed at players and England manager Gareth Southgate said: 'It's just not what we stand for… We have shown the power our country has when it does come together and has that energy and positivity together.'
Published: 12 Jul 2021
What do you think?