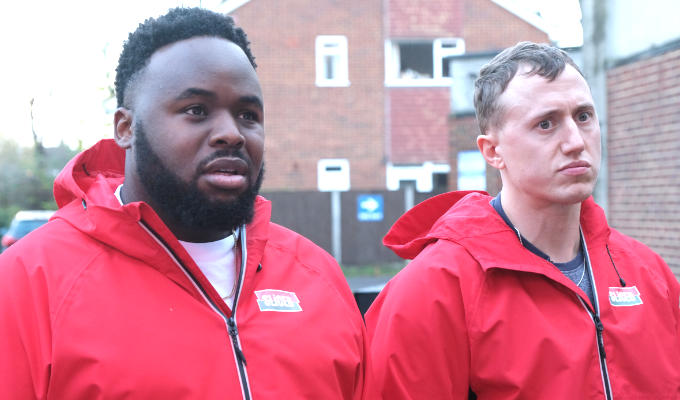 Delivering more Sliced
The week's best new comedy on TV and radio...
Monday May 31
INSIDE NO 9: Steve Pemberton and Reece Shearsmith are joined this week by guest stars Adrian Dunbar and Pauline McLynn. Actor James is waiting for his big moment on ITV's new crime drama in a static caravan, owned by a strange family that clearly have something to hide. BBC Two, 9.30pm
RUSSELL HOWARD STANDS UP TO THE WORLD: Episode one of a three-part travelogue following the comic as he becomes one of the first international stand-ups allowed to perform in New Zealand and Australia, post-lockdown. Sky One, 9pm
Wednesday June 2
TWAYNA MAYNE: BLACK WOMAN: A new series in which the comedian,of Jamaican heritage and raised by a white parent, explores her identity, in this episode via the subject of food. She also hears from chef and broadcaster Andi Oliver and academic and podcaster Chantelle Lewis. Series one was named best comedy at last year's BBC Radio and Music Awards. Radio 4, 11pm
THE SKEWER: Fresh from being named best comedy at the Aria audio awards last week, the Jon Holmes produced satire that makes a trippy soundscape out of the week's news returns for a new series. Radio 4, 11.15pm
Thursday June 3
SLICED: Samson Kayo and Theo Barklem-Biggs return as delivery drivers for Penge's eighth cleanest pizza shop in a second series of this breezy comedy. It co-stars Weruche Opia and David Mumeni with guest appearances from Phil Daniels, Racheal Ofori and Ricky Grover. In tonight's opening episode, Joshua (Kayo) is caught dressed as a dog at a council flat sex party, Joshua, and has to patch things up with Naomi (Opia). Dave, 10pm
FAMALAM: A compilation episode of the sketch show features an overprotective boyfriend meeting his match, Scribbler P giving an important lesson on military history, and the E19 Posse and the Stratford Soldiers trading insults over a drill track. Dave, 10.40pm
MOCK THE WEEK: Maisie Adam, Angela Barnes, Ed Byrne. Milton Jones and Kae Kurd guest. BBC Two, 10pm
IAIN STIRLING'S CELEBABILITY: The comic is back with another run of his game show, with Katherine Ryan among the contestants on episode one. ITV2, 10pm
Friday June 4
THE LAST LEG: Adam Hills, Josh Widdicombe and Alex Brooker return for a 22nd series. This week's guests are Rob Beckett and Maya Jama. Channel 4, 10pm
HAVE I GOT NEWS FOR YOU: Aisling Bea hosts for the first time - she's not even been a guest before - with Roisin Conaty and Clive Myrie, the BBC newsreader and new host of Mastermind, on the anel BBC One, 9pm
Saturday June 5
DO TELL THEM PIKE: ARTHUR LOWE ON THE RADIO: In this three-hour tribute, first aired in 2015, Ian Lavender celebrates the career of his Dad's Army co-star, including a performance as PG Woodhouse's butler Jeeves and his 1970 appearance on Desert Island Disc, once lost from the archives. Radio 4 Extra, 9am
Published: 30 May 2021
What do you think?