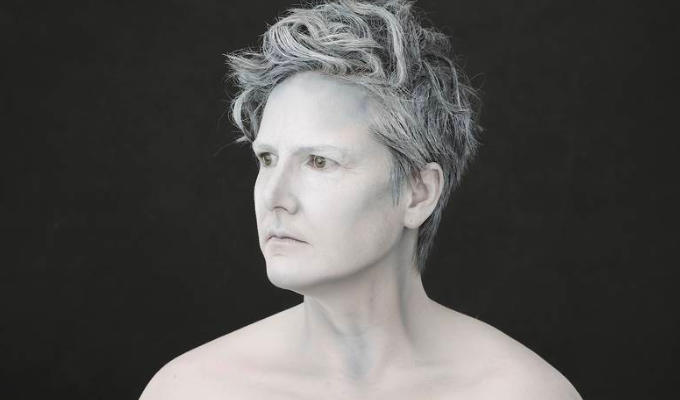 Hannah Gadsby announces new tour
Hannah Gadsby has announced a new stand-up show, which will be coming to the UK early next year.
Body Of Work follows the success of her international breakthrough smash Nanette and its follow-up Douglas, both of which have been released as Netflix specials.
She today announced a raft of Australian and New Zealand dates from July to November, as well as revealing the striking tour image, above. And while no European dates have yet been confirmed, she is expected here early in 2022.
Tweeting the news of the first dates, she said: 'Here's a bit of Hooray… I have a new show… it's called BODY OF WORK… and I'll be visiting lots of places across OZ and NZ.
'I'm not traditionally an excitable person but… I'm back on a real live stage. It's nice. Tickets on sale this week so… get amongst it… if you want!'
Her antipodean dates, below, oddly exclude Sydney, Australia's biggest city, but promoters say: 'We haven't forgotten you, we are planning something special and will update you soon.'
Gadsby has also been writing her first book, a memoir called Ten Steps to Nanette, described as 'deeply personal, astutely observed, sometimes devastating but frequently hysterically funny'.
It was originally due out in 2019, but publishers Atlantic Books currently have it listed for October 2022.
Last month, Gadsby, 43, revealed that she had tied the knot with Jenney Shamash, who produced the Netflix version of Douglas.
She posted on social media: 'I would like to introduce all y'all to Jenney Shamash. She is a producer extraordinaire. She is very funny and is really talented at reciting facts. It is a joy to behold.
'We got married in January and we are very chuffed about it. For the record: this is me gushing. I am full of very positive feelings. This is a nice story.'
And she added: 'My heartfelt thanks to everybody who voted for marriage equality. #married #really? #yeahtotally.'
I'd like to introduce all y'all to Jenney. She's a producer extraordinaire. She's funny and very talented at reciting facts. We just got MARRIED and we are very chuffed. This is me gushing. I'm full of very positive feelings. Thanks to all y'all who voted for marriage equality. pic.twitter.com/8lpaPyPADO

— Hannah Gadsby (@Hannahgadsby) April 29, 2021
HANNAH GADSBY 'BODY OF WORK'
AUSTRALIA AND NZ TOUR DATES
July 23–24: Canberra Theatre Centre, Canberra
July 26: Albury Entertainment Centre, Albury
July 29: Newcastle Civic Theatre, Newcastle
August 5–7: Theatre Royal, Hobart
August 15–16: Princess Theatre, Launceston
August 22: Darwin Entertainment Centre, Darwin
August 27: Ulumbarra Theatre, Bendigo
September 1: Albany Entertainment Centre, Albany
September 3: Bunbury Regional Entertainment Centre, Bunbury
September 4: Mandurah Performing Arts Centre, Mandurah
September 10–11: Regal Theatre, Perth
October 26–31: Comedy Theatre, Melbourne
November 26–27: QPAC, Brisbane
Published: 10 May 2021
What do you think?