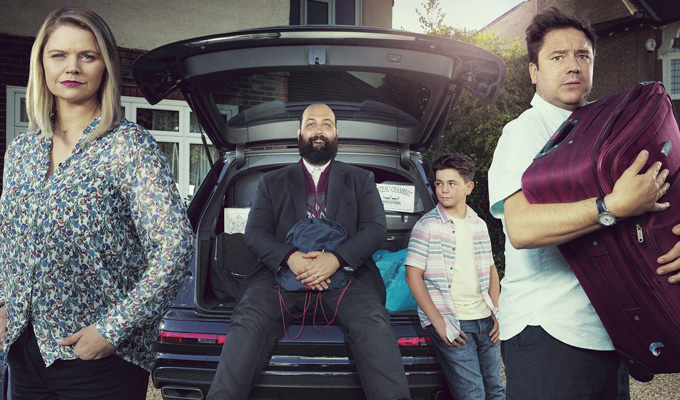 Home isn't where Channel 4's heart is
Channel 4 has dropped its refugee comedy Home.
The broadcaster's decision not to commission a third series was revealed by creator and co-star Rufus Jones on Twitter.
He posted: 'Sadly we will not be having a third series of Home on Ch4. It's rare you get to write a hero's quest in such literal terms'
He also said he would 'never have a greater privilege; than writing for the cast including Youssef Kerkour - who played Syrian migrant Sami - Rebekah Staton, Oaklee Pendergast and Aaron Neil.
After receiving praised from fans, he added: 'To everyone who reached out to us online, about how much Home meant to them, thank you and know that it meant the world to hear from you.
'We were a modest show, but it was thrilling to see it making dents in walls that needed denting.'
And he included a link to the charity Help Refugees.
Hi All. Sadly we will not be having a third series of Home on Ch4. It's rare you get to write a hero's quest in such literal terms. I'll never have a greater privilege than writing for @YoussefKerkour, Rebekah Staton, @OakleeP, @_AaronNeil and everyone else. Sami. Habibi. Yalla.

— Rufus Jones (@rufusjones1) May 6, 2021
Kerkour said he was 'immensely sad today' after hearing the news but added: 'It will remain one of the greatest privileges of my life to share the screen with the beautiful talents' of his co-stars.
Neil, who played Raj, added: 'It was such a privilege to be part of something this special. Deeply sad that the journey ends here but forever grateful to the wild crazy genius of' Rufus Jones and the rest of the cast.
He also thanked 'every single one of you who watched and loved it. We made it for you. And I will be forever grateful that you welcomed Home into your hearts with such love.'
Kerkour won an RTS award this year for playing Sami, a Syrian asylum-seeker going through the travails of the UK refugee system with the support of his adoptive family, and was nominated for a Bafta last year.
Those paying tribute to Home included Line Of Duty writer Jed Mercurio who said he was 'really sorry to hear this'; comic Sanjeev Bhaskar who said 'you all created a beautiful, moving, funny, important and unique show'; and comedy writer Jason Hazeley. who wrote: 'It would be shameful, had there not been two glowing series. Also: after two glowing series, it's still shameful.'
Published: 7 May 2021
What do you think?