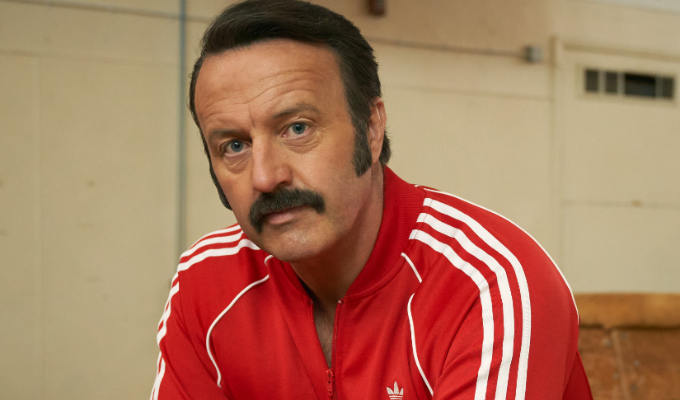 BBC Wales orders Mike Bubbins sitcom
Stand-up Mike Bubbins is to play a 1970s PE teacher suddenly supplanted into the present day in a new comedy series.
The Life On Mars-style comedy pilot, Mammoth, is one of several new shows announced by BBC Cymru Wales today.
The slate includes also includes a new tech-influenced sketch comedy series, Age Of Outrage, following a pilot that aired in February last year, and several short-form shows,
Bubbins says of his forthcoming sitcom, which he also wrote: 'Tony Mammoth is a man from the 1970s who is frozen in time, to be brought miraculously back to life in the modern day.
'I tried to make Mammoth a comedy full of heart, positivity and optimism. It has a brilliant, talented cast and crew, and BBC Wales couldn't have been more supportive throughout the whole process. I still can't quite believe it's happening.
'I didn't think when I resigned as a PE teacher and drove out of the school gates, to try to make a career of comedy, that one day, just 15 short years later, I'd be driving back in through those same gates to record my own BBC sitcom.'
Mammoth will also star Joseph Marcell, Jan Anderson and Mali Ann Rees
The other shows announced today are:
Beena And Amrit: A short-form taster episode written by and starring up-and-coming Welsh comedian Priya Hall. Based on her experiences growing up in an Indian family in the south Wales valleys and her relationship with her mother, played by Meera Syal. Made by Cardiff's 16 Media.
Bravo 2 Charlies: Short-form taster TV episode of the long-running BBC Radio Wales sitcom about the North Wales traffic police. Made by Llandudno-based Giddy Goat.
BBC Sesh Short Form: Two sets of six 5-minute shorts featuring new writers and performers who came through the BBC Sesh talent development programme, made by Little Wander and Rubber Chicken
Porth Purgatory: A ten-minute taster about a twenty-something man who is forced to take on what he believes to be a dead-end job. Written and devised by Garyn Williams, working with The Mobile Film School, it features star of It's A Sin actor Callum Scott Howells.
Age of Outrage: A sketch show about modern technological life, filmed on virtual sets during the pandemic and due to be broadcast later this year.
BBC Wales' head of content commissioning, Nick Andrews says: 'The current crop of new productions demonstrates BBC Wales' continued commitment to developing Welsh comedy and finding Wales' next generation of comedy writers and performers."
As previously announced, the Steve Speirs-penned comedy series The Tuckers will be returning to BBC Wales for two more series, with filming due to start in the summer.
Published: 22 Apr 2021
What do you think?