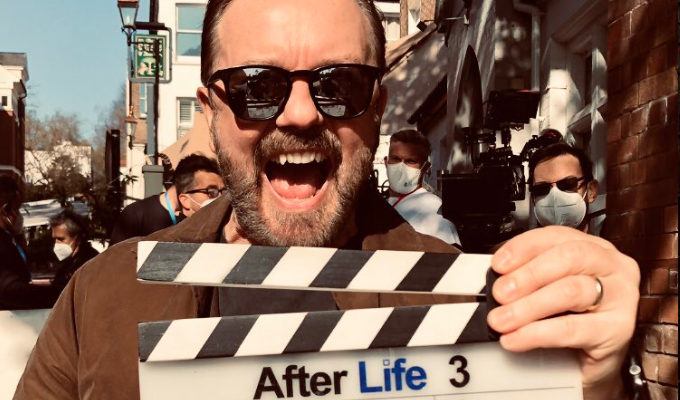 Filming starts on After Life series 3
Ricky Gervais has started filming the third series of After Life.
He today tweeted an image of himself on set, holding the clapperboard for the first scene to be shot, captioning it 'Action!'
Gervias directs the bitter-sweet comedy, as well as writing and starring in it.
Action! pic.twitter.com/1OwC9O9qCX

— Ricky Gervais (@rickygervais) April 19, 2021
Today's post cames after he tweeted a picture of the first day's shooting schedule yesterday, joking: 'I'd better learn my lines.'
I'd better learn my lines. pic.twitter.com/zgWdz7UKZp

— Ricky Gervais (@rickygervais) April 17, 2021
Netflix announced the third series of After Life in May last year, soon after the second had landed.
It picks up the story of local newspaper reporter Tony, depressed after the death of his wife Lisa, played in flashback by Kerry Godliman.
The last series ended with the strong suggestion of a new relationship with Emma, the nurse working at the nursing home where Tony's dad was a resident, as played by Ashley Jensen,
Gervais has said this will be the final series, commenting: 'We've already made my mind up there won't be a four.
'It's tempting but… there's an old saying that 'to lead the orchestra, you've got to turn your back on the audience That's true. The audience think they want another one, but they're not sure. So you've got to be careful.'
Published: 19 Apr 2021
What do you think?