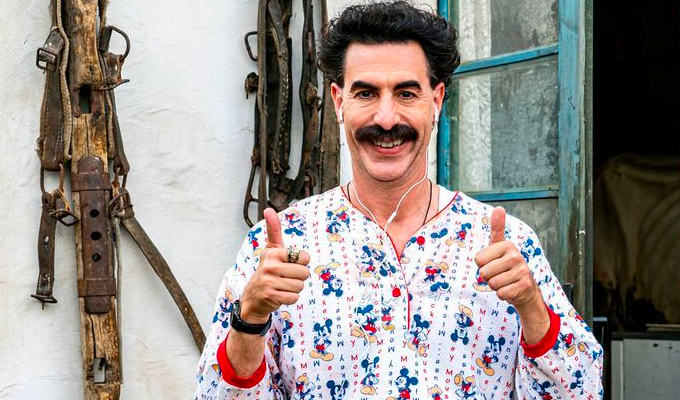 Unseen Borat footage to be released
Unseen footage from the Borat Subsequent MovieFilm is to be released.
Scenes which didn't make the final cut are to be included in the new Amazon Prime show, alongside video showing how hairy things got for Sacha Baron Cohen during filming.
A trailer has been released this afternoon, which included frightening footage of him fleeing a gun-rights rally after saying, tongue in cheek: 'I'm looking out on this diverse crowd with every shade of white all waving machine guns - I've never felt safer.'
He is shown taking cover in an ambulance the crew had hired and, finally breaking character, telling the driver to 'just keep going because if you stop you are going to be in a violent situation'.
Other scenes show co-star Maria Bakalova, as Borat's daughter Tutar, wanting a makeover to look like R Kelly, and the Kazakh character himself trying to get to grips with Alexa while staying with some rednecks in their lodhe.
A social media post from the official Borat account also revealed the full title of the extra footage: Borat Supplemental Reportings Retrieved From Floor of Stable Containing Editing Machine.
The great nation of Kazakhstan see Snydercut and present the US and A with longest name for special: Borat Supplemental Reportings Retrieved from Floor of Stable Containing Editing Machine. Coming soon, chenqui! pic.twitter.com/LGZCeQqVIm

— Borat (@BoratSagdiyev) April 15, 2021
The original film already has the Guinness World Record for the longest title for a film nominated for an Oscar, given that its full name is Borat Subsequent Moviefilm: Delivery of Prodigious Bribe to American Regime for Make Benefit Once Glorious Nation of Kazakhstan.
It is nominated for best screenplay, with Bakalova up for best supporting actress – and has already won two Golden Globes.
The special, believed to run over more than one epsiode, is billed as 'coming soon' to Amazon Prime, but no release date was given.
Published: 15 Apr 2021
What do you think?