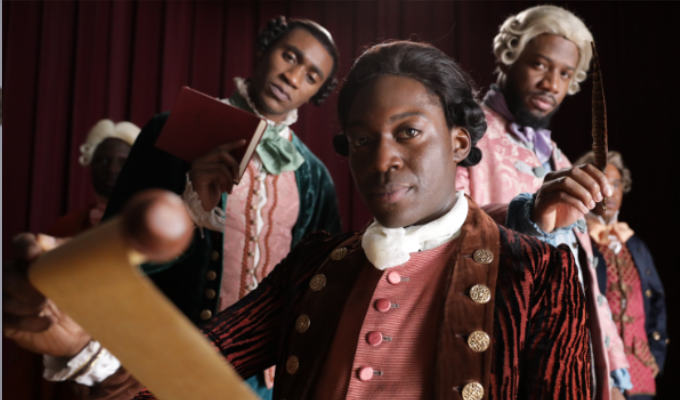 Drunk History returns to tell black stories
Comedy Central's Drunk History is to return as an internet series, with a focus on telling stories from black history.
Stand-ups Jamali Maddix, Kevin 'KG Tha Comedian' Garry, Travis Jay, Desiree Burch and Thanyia Moore are among those who will be narrating the six, eight-minute episodes.
Originally a US creation, the British Drunk Histories ran for three series on Comedy Central's TV channel from 2015 to 2017, narrated by Jimmy Carr.
Rapper, producer, and director Rapman who will introduce the new series, said: 'My entire career has been focused on telling authentic, black stories. I'm excited to be a part of a show created by black people where viewers can be entertained while learning about these unsung back heroes.'
New episodes of Drunk History: Black Stories will be released weekly on YouTube, Facebook, and Instagram at 6.30pm on Thursdays, starting next week Director Amma Asante, actor Tom Moutchi and Instrgaram comedian Ty Logan will also be narrators.
The featured stories will, in order, focus on
Sons of Africa: 18th century abolitionist group in Britain that campaigned to end the African slave trade.
Mary Seacole: British-Jamaican nurse who set up a hotel on the frontlines of the Crimean War in 1853 and nursed soldiers back to health.
Len Johnson: Mixed race boxer denied the chance to compete for a championship in Great Britain because of the colour bar.
Sister Rosetta Tharpe: Godmother of rock n roll who some historians consider to have recorded the first rock n roll song in the US
Benin Bronzes: A story of the men behind the reclamation of looted art from the Kingdom of Ghana.
Yaa Asantewaa: Female soldier who led the War of the Golden Stool against British Colonialism in Ghana's Asante Empire.
Kerry Taylor, from the broadcaster's parent company ViacomCBS Networks International, said: 'This series combines the power of the Comedy Central brand and outstanding talent to put front and centre decentred black voices and their influence on global history, all through a comedic lens.
'Black creatives, crew members and talent brought this show to life so we can celebrate the incredible contributions of black figures from across the African diaspora.'
The cast acting out the scenes comprises: Scorcher, Zeze Millz, Leticia Hector, Lola Jagun, Femi Oyeniran, Sheila Atim, CJ Beckford, Natey Jones, and Tom Moutchi. The episodes were directed by Stephané Alexandre, Femi Oyeniran, and Adjani Salmon.
Published: 6 Apr 2021
What do you think?