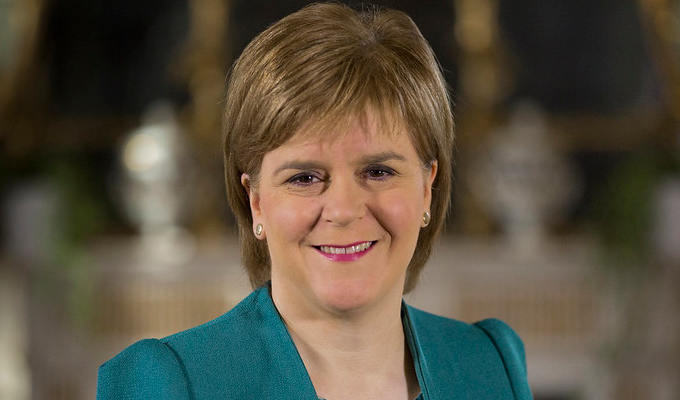 Still no reopening date for Scottish venues
Nicola Sturgeon has declined to set a date for the full return of live entertainment in Scotland.
The First Minister offered no hint as when the uncertainty that has crippled the live comedy industry and threatens this year's Edinburgh Fringe might end.
She said it is too soon to set a target for when normality might resume explaining: 'It is not possible to provide specific dates or details.'
Her comments came as she announced yesterday that the toughest stay-at-home lockdown orders will be relaxed north of the border on April 2.
And as part of the Scottish roadmap out of restrictions, the plan is that 'small scale outdoor and indoor events could restart with limits on capacity' on May 17.
However unlike the Westminster government, which has set June 21 as the hoped-for date when virtually no Covid restrictions will be in place for England, Ms Sturgeon only offered a more vague hope that Scotland could move to the so-called level 0 by the end of June.
That is worryingly close to when the Edinburgh Fringe should kick off in early August, with venue operators, producers and performers all needing time to prepare.
'It is not possible to provide specific dates or details for coming out of lockdown beyond May 17 – that will depend on what impact there is from the changes already made,' Sturgeon said. 'However, my hope and ambition is that from early June, all of Scotland will effectively be in level one of the levels system, allowing for a further easing of restrictions – and possibly moving to level zero in late June.'
'This will allow us to enjoy many of the things that we took for granted before the pandemic– normal family gatherings where we can hug our loved ones, sporting events, gigs and nightclubs.
'I cannot set a date for that point yet, but I do believe that over the coming weeks as more and more adults are vaccinated it will be possible to set a firmer date by which many of these normal things will be possible, and I am very optimistic that this date will be over the summer.'
Music festivals due to be held in Scotland this summer, such as Trnsmt on the weekend of July 9, are still planning to go ahead.
The Edinburgh Festival Fringe Society has not issued a statement on this year's event since January when it said: 'There will be a Fringe from August 6 to 30, be it live or digital or both.
'It's still too early to say exactly what the festival will look like at this stage, and with the situation changing around us so rapidly, it wouldn't be sensible or fair for us to speculate.'
Published: 17 Mar 2021
What do you think?