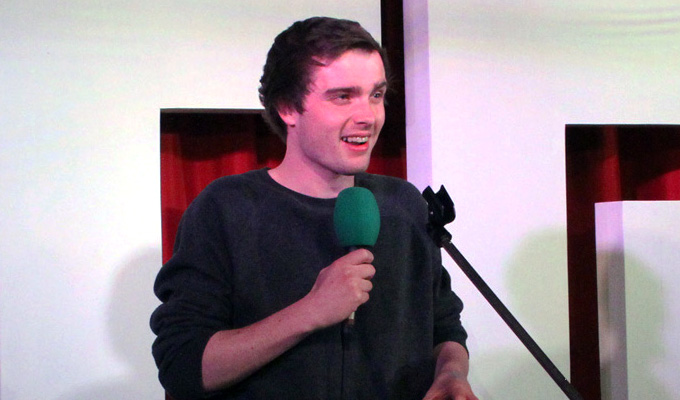 Comedian tries to crack the cryptoart market
It is the investment market so intangible it makes Bitcoin seem simple.
But now one Welsh stand-up has become the first British comedian to create a piece of so-called cryptoart and put it onto the market.
Alex Mahoney hopes the seven-second clip of his stand-up will allow him to cash in on the new trend for digital art that exists only digitally, not physically.
Pieces are sold as what's known as a 'non-fungible tokens', or NFTs, and can be hugely lucrative. Grimes, the musician girlfriend of Tesla boss Elon Musk has made more than £4million selling four pieces this week.
The idea is that buyers have a digital certificate which says they own the authentic original work, even if it can be copied and shared. Deals are usually made in cryptocurrency, and often involve the artist getting a commission each time the NFT is bought or sold in the future, too.
Mahoney, who was a semi-finalist in the BBC Radio New Comedy Awards in 2016, has put his brief clip on the market for 66 ethereum, equivalent to about £78,000. Ethereum is the second-largest cryptocurrency after Bitcoin.
The footage comprises him saying: 'Water's boring, isn't it?' which he sardonically says is 'arguably the finest piece of observational comedy to come out of the United Kingdom since Peter Kay asked the nation: "What were that all about?"'
Speaking about his decision to sell the clip as cryptoart, Mahoney told Chortle: 'I wasn't really sure what I was doing and it ended up costing me £50 which I'm pretty livid about.
'This might end up being a good way for comics to make money online if the cost of listing an item is lowered in the future,, although it could just be a waste of £50.
He said that he believes the clip is the only video of him doing stand-up there is, and added: 'If you purchase this, I will quit my job
'As someone who's been living in their overdraft since 2009, I'm not really sure why I decided to spend £50 on 'minting' a second clip. I'm probably having another nervous breakdown - but if someone was nice enough to buy it for $109,000, I'd really appreciate it.
'Also my right ear is on the blink and I need to pay for a hearing aid this month so I'm looking forward to the cash injection.
If the piece is sold, Mahoney takes one per cent of any future resales, too.
American comedian Hannibal Buress has also offered an NFT for one of his stand-up performances – and received a bid. One fan said they were prepared to pay just over £1,700 for the 2003 performance, and hand over 20 per cent of all subsequent resales, although Buress has not yet accepted the offer.
The profits from NFTs can be dizzying. Earlier this week, Reuters reported how a Miami-based collector called Pablo Rodriguez-Fraile sold a ten-second video by digital artist Beeple for $6.6 million which he brought in October for $67,000.
However many financial experts have warned that the cryptoart market could be an investment bubble that would cause major losses if it bursts, as well as offering potential for fraud.
The NFT for Mahoney's stand-up clip is on sale via the Rarible marketplace.
Published: 3 Mar 2021
Recent News
What do you think?