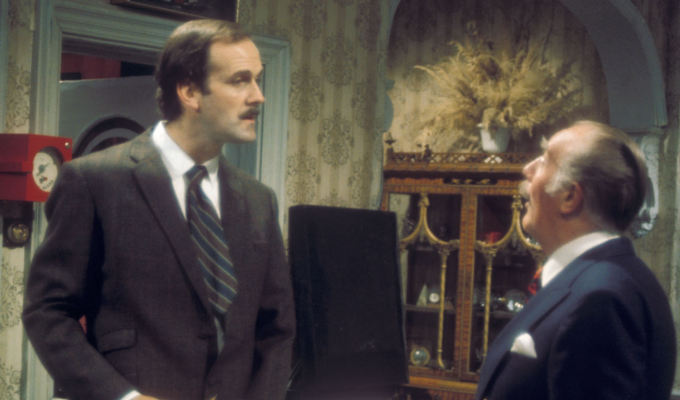 BBC cuts Major's racist rant from Fawlty Towers rerun
The BBC is cutting a racist rant from Fawlty Towers resident Major Gowan when it repeats the classic sitcom later this month.
John Cleese and Connie Booth's comedy is being rerun from March 15 as part of the Corporation's ongoing Festival Of Funny.
But it will not include the most controversial scene from the episode The Germans, in which the out-of-touch pensioner, played by Ballard Berkeley, talks about taking a female friend to see the Indian cricket team, using two strong racist slurs.
Fawlty Tower is being repeated on BBC One before the 9pm watershed, and the Corporation said it was complying with both the broadcasting regulator and its own standards in cutting the exchange.
A spokesperson said: 'We are adhering to Ofcom's language guidance and the BBC's Editorial Guidelines and broadcasting the same, pre-watershed compliant version of the show which we broadcast in 2013.'
At that time, Cleese agreed to the words being cut - although last year he defended the scene when the episode was temporarily removed from the UKTV Play streaming platform.
'The major was an old fossil,' he said. 'We were not supporting his views, we were making fun of them. If people are too stupid to see that, what can one say?'
Some fans are also keen for the BBC to air the hugely offensive language. Writing on Twitter, one said: 'Sure why don't you wrap everyone up in bubble wrap ffs. They are the best parts and no one back then took them seriously, why all of a sudden are people offended.'
The pre-watershed version will also be included in a box set of Fawlty Towers episodes also dropping on BBC iPlayer on March 15.
Another edit involves the opening image where the letters on the Fawlty Towers sign are rearranged. In the episode The Anniversary, the anagram originally read: 'Flowery Twats.'
Published: 3 Mar 2021
What do you think?