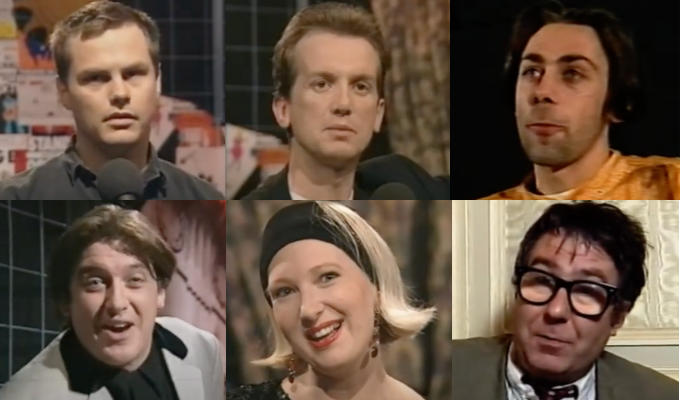 Reliving the 1990 Edinburgh Fringe
Rare footage of comedians including Jack Dee, Frank Skinner and Jenny Eclair from their youth has emerged on YouTube.
The comics' sets were filmed at the 1990 Edinburgh Fringe for a series called Up Yer Festival, which aired on the short-lived satellite broadcaster BSB.
Now Richard Hearsey has uploaded all ten episodes on to YouTube in their entirety, offering a wealth of material for nostalgia buffs or comedy historians.
Each episode has a different host, including comedians Mark Little, Norman Lovett, Craig Fergusson, Simon Fanshawe and future Grace Under Fire sitcom star Brett Butler – and even Michael Grade, who was chief executive of Channel 4 at the time.
Other comics featured include Sean Hughes, who won the Perrier award that year, Mark Steel, Chris Lynam, Bob Downe, John Moloney, Pete McCarthy , Phil Hammond, and Greg Fleet.
The show also featured regular sketches with Caroline Quentin and Dave Cohen, as well as reports from Malcolm Hardee, who was seeking winners of an accolade called The Snakebite Award.
Richard Cole presented a report on 'Scottish mawkishness', Kate Copstick - now known as The Scotsman's comedy critic - performed as an easily-offended pearl-clutching local in one sketch, while Spike Milligan even made a guest appearance in one episode, reading a poem from the infamously awful William McGonagall.
The series went out live, and was made by Noel Gay Television.
Published: 1 Mar 2021
What do you think?