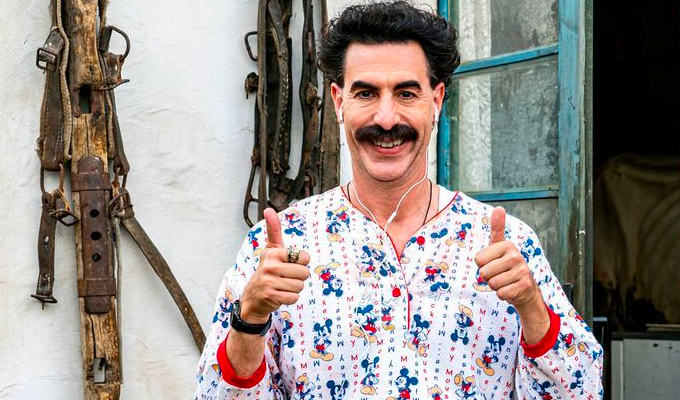 Borat scoops two Golden Globes
Borat Subsequent Moviefilm was a double winner at last night's Golden Globes.
The movie was named best musical or comedy film, while star Sacha Baron Cohen was named best actor in the same category.
In his acceptance speech, the comedians said: 'This movie couldn't have been possible without my co-star. A fresh new talent who came from nowhere, and turned out to be a comedy genius. I'm talking, of course, about Rudy Giuliani.
'Who could get more laughs out of one unzipping? Incredible. Our movie was just the beginning for him. Rudy went on to star in a string of comedy films. Hits like Four Seasons Landscaping, Hair Dye Another Day and the courtroom drama, A Very Public Fart.'
However Cohen's real co-star Maria Bakalova – who was involved in an on-screen sting involving Donald Trump's lawyer - lost out for best actress in a musical or comedy film to Rosamund Pike, for I Care A Lot.
Schitt's Creek's was named best musical or comedy TV series, with Catherine O'Hara winning best actress for her role as matriarch Moira Rose.
In her acceptance speech, he thanked creators and co-stars Dan Levy and Eugene Levy, saying: 'They created an inspiring, funny, beautiful show in which they let me wear a hundred wigs and speak like an alien.'
Jason Sudeikis won the male category for his title role in Apple TV's Ted Lasso.
The comedy is currently in production on its second season in London.
Here is a backstage interview with Baron Cohen after he won one of his gongs:
Published: 1 Mar 2021
Recent News
What do you think?