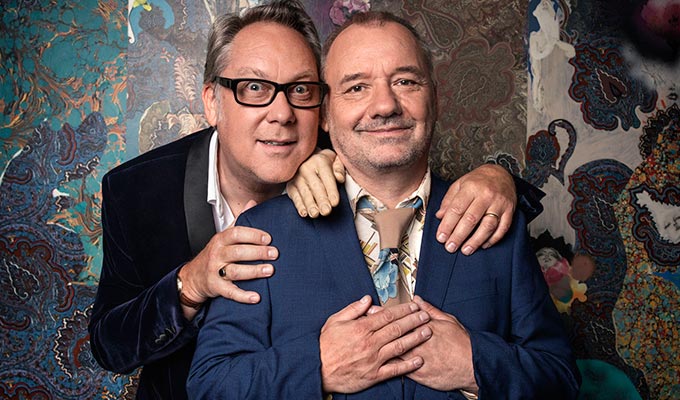 Vic and Bob's The Glove set to film this summer
Vic Reeves and Bob Mortimer are set to start filming their long-awaited movie The Glove this summer – and it could feature Ant-Man star Paul Rudd.
Reeves also revealed that Nicolas Cage had previously been lined up to play the villain, but that was now uncertain because of the delays to filming.
Speaking to the Daily Star, the comedian said: 'I got a message last week saying we could film in August and September.
'It's like the Holy Grail, but set now, and the great prize in Michael Jackson's training glove - a bit of celebrity memorabilia that someone really wants and pays for us to go and find.
'But it's actually a garden glove he uses to train, which has his magical powers in it.
'We were supposed to be filming it last year and Nicolas Cage was going to be the baddie in it, but who knows what will happen? Paul Rudd has asked if he can be in it - he'd be good.'
Although the duo wrote the script a decade ago, the project was first confirmed in 2018. At the time an image was released showing what is believed to be the cast: Morgana Robinson, Noel Fielding, Matt Lucas, Tim Key, Tony Pitts, Paul Whitehouse and Tony Way
Inaugural meeting of the anti oxidant supporters club pic.twitter.com/USb0x16hil

— Bob Mortimer (@RealBobMortimer) October 25, 2018
In October the first posters were revealed by producers Studio POW, showing the double-act in orange jumpsuits, with Mortimer holding a 'I love NY' mug.
Both Tim Kirkby, whose credits include Stewart Lee's Comedy Vehicle and Fleabag, and Big Night Out's Mat Whitecross, have been cited as directing the film.
Shane Allen, the BBC's head of comedy, has said: 'I'm so delighted to live in a world where The Glove will get made… it's a peach of a script.'
Reeves was talking to the Star to promote his new podcast with Jools Holland – Jools And Jim's Joyride – recorded under his real name, Jim Moir.
Published: 8 Feb 2021
What do you think?