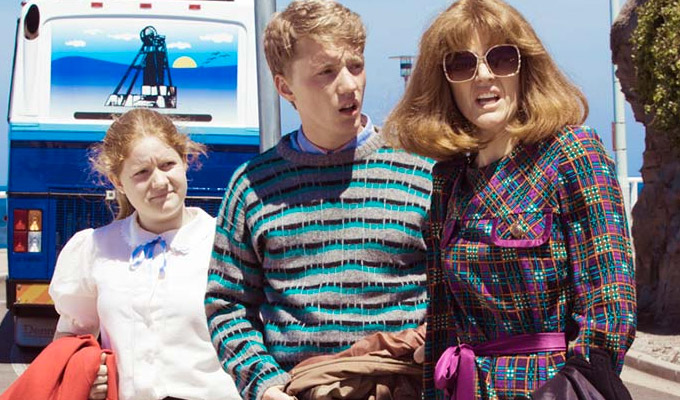 Filming starts on Frayed series 2
Filming has begun on the second series of Sarah Kendall's Sky comedy series Frayed.
The cast, including Diane Morgan, have started shooting six new episodes in Sydney, which are due to air later this year.
Kendall said she was 'so excited' to be back on set, adding: 'We're all really grateful for this opportunity to bring back a lot of these frankly appalling characters.'
Morgan previously tweeted an image from her quarantine hotel where she was forced to spend two weeks in isolation before filming began to ensure she was not bringing Covid-19 into the country.
Set in the 1980s, Frayed charts the attempts by Kendall's character Sammy to rebuild the opulent life she had in London, after the death of her husband revealed that their wealth was built on sand.
While the first series depicted Sammy back in her hometown of Newcastle, New South Wales, the second has her back in the UK - but living in a tiny flat and working in a car exhaust shop.
She is frantically trying to prove that her lawyer, Rufus (Robert Webb), stole her old house, while police down under investigate happened to her neighbour down under.
The show is made by Merman, the company set up by Sharon Horgan and producer Clelia Mountford, who said: 'Sarah's bold writing and vibrant characterisation, combined with the cast's fantastic performances received such deserved acclaim for season one, and we're excited for audiences to see what's in store as the trail of destruction continues to unfold.'
Frayed airs on Sky in the UK and the ABC in Australia – and series one was also snapped up by HBO Max.
ABC TV head of comedy Todd Abbott said: 'The first season of Frayed made Australians realise that Sarah Kendall is a true triple threat: writer, performer and fashion icon. The second season promises to make her a fully-fledged national treasure, as a stellar cast and top-shelf production team bring to life the sharp, suspenseful, audacious and flat-out funny scripts she has created.'
Kendall was nominated for a Bafta for her performance in the first season, which aired in October.
Ben Mingay, Kerry Armstrong, Alexandra Jensen, Doris Younane, Matt Passmore, George Houvardas, Frazer Hadfield and Maggie Ireland-Jones all reprise their roles for series 2. And joining the cast are Hamish Michael, Jane Hall and Emma Harvie.
Here's a scene from the first series:
Published: 3 Feb 2021