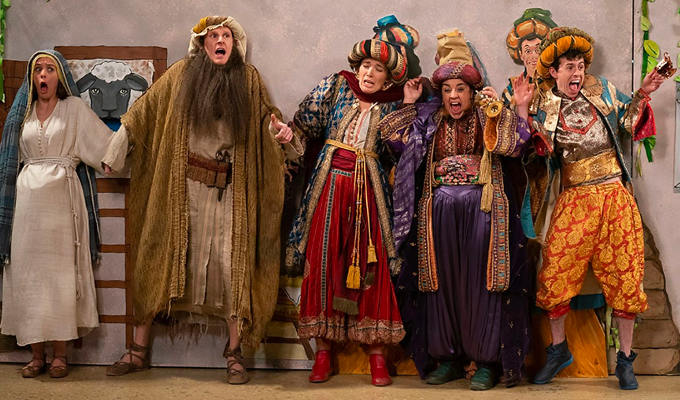 BBC got 193 complaints over Goes Wrong Show's Nativity
The BBC received 193 complaints that the Nativity edition of the Goes Wrong Show was 'offensive to Christians', it has been revealed.
Last month, Chortle reported how the programme upset some viewers who thought the slapstick shenanigans was disrespectful to their beliefs. Now the Corporation's complaints unit has revealed the total number who contacted them.
The BBC's response was: 'While it's never our intention to offend or upset our viewers with what we show, it is perhaps inevitable that some aspects of our programmes will occasionally strike some in our audience as inappropriate. This is especially so within comedy; one of the most subjective areas of programming.
'Our Editorial Guidelines uphold the right to freedom of expression and the right of programme-makers to include material which some members of the audience may find inappropriate or offensive.

'However, we are always very conscious of how jokes might resonate with those with direct experience of the subjects we cover, and we never set out to mock or undermine their beliefs and experiences.'
Reaction to the episode on Twitter was almost universally positive, with viewers saying it was 'such a joy', 'absolutely fantastic' and the 'silliest, most fun Christmas show'. One even said: 'I was laughing so much I thought I might vomit'.
However, one complainant on Twitter said the show was 'so offensive to millions of Christians across London,' adding in the spirit of Christian charity: 'You disgusting corporation of pigs. Hope you come crashing down very soon you woke scum.'
In the show, which aired at 7pm on December 22, the fictional Cornley Polytechnic Drama Society recreated the Nativity story 'with the usual technical hiccups and blunders that viewers of the programme would expect'.
The BBC has also revealed that 500 people complained that the New Year fireworks display in London referenced Black Lives Matter.
Another 289 people complained about the reference to the same movement in The Vicar Of Dibley in the period covered by the latest fortnightly report from the complaints unit, bringing the total up to 555.
Published: 8 Jan 2021
What do you think?