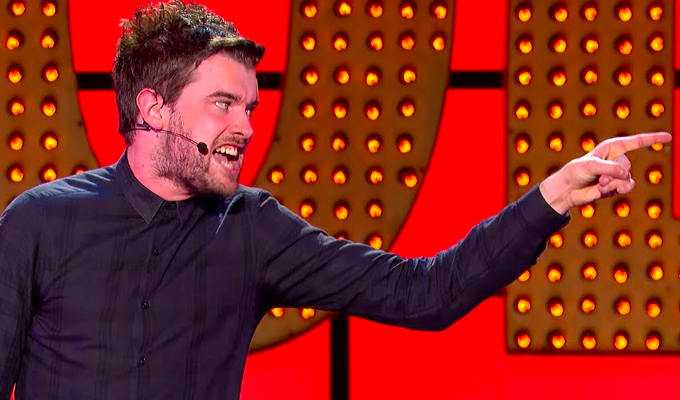 BBC raps Jack Whitehall over dwarf jokes
The BBC has censured Jack Whitehall for jokes he made about a dwarf on Live At The Apollo.
However, a gag Fin Taylor told about bombing Glastonbury to get rid of Jeremy Corbyn supporters on Have I Got News For You on Friday has been cleared by the Editorial Complaints Unit.
Two viewers complained about a story Whitehall told about meeting a dwarf at a music gig which aired on BBC Two in September.
The corporation's watchdogs said: 'Viewers familiar with Jack Whitehall's self-deprecating style of comedy would have understood the routine as intended primarily to show up his own inadequacies and failings, and to that extent if fell within audience expectations for stand-up comedy in a late evening slot.
'The ECU accepted, however, that there were occasions when it seemed a stereotypical view of dwarfism itself, rather than Jack Whitehall's own ineptitude, was the source of the humour, which took the routine beyond the expectations of audiences in relation to material of this kind.'
No mention was made of the exact content of the routine, but in his 2011 tour Whitehall spoke of his girlfriend introducing him to a friend of hers called Matthew, who was a dwarf, and asking him to keep an eye on him at a concert – a task the comic found hard because of his size and because, in a drunken state, Matthew was running round like a 'pissed-up toddler'.
The routine – which included the line - 'I ain't got anything against dwarfs, midgets, little people, whatever the little freaks like to be called' - culminated with the stand-up holding up Matthew so he could reach the urinal to pee. Here's the story from his Jack Whitehall Live DVD.
In a 2012 interview, Whitehall made it clear Matthew had no issue with the story.
Speaking to Metro, he said: 'I did one story about a dwarf, who is now a friend of mine. We met at a concert and I had to hold him up to a urinal so he could urinate and I accidentally dropped him. It certainly broke the ice.
'The first time I told the story I saw him in the audience, then I looked again, and he'd left. I thought I'd upset him, so I apologised when I met him backstage.
'He said, "I don't mind, I came to the front of the stage for a high five but you didn't see me." So for five minutes there was this dwarf at the front of the stage with his hand up and I had just left him hanging there.'
Whitehall's Live At The Apollo episode first aired in 2015 without the offending routine, but an extended repeat was broadcast on September 8.
Meanwhile, the BBC has revealed that the received 453 complains about Taylor's joke about the former Labour leader on last week's Have I Got News For You
The comic likened Corbyn's supporters to dogmatic Bob Dylan and suggested that to get rid of them you could 'bomb Glastonbury' - where Corbyn was greeted with enthusiastic chants of Oh, Jeremy Corbyn in 2017.
Taylor added: 'Hopefully Dylan's headlining. Two birds, one stone.'
Those who complained said the gag was 'inappropriate', and claimed it 'could incite violence'.
But the BBC's complaints unit ruled: 'After more than 30 years on air, Have I Got News For You is a well-established comedy series that has built a reputation for irreverent humour and satire.
'Regular viewers expect the panellists to make jokes and understand that contributions are intended to be funny and amusing, and this edition was no exception.
'It was clear that comedian Fin Taylor was talking about an utterly absurd scenario, in which he compared Jeremy Corbyn to Bob Dylan, and was in no way whatsoever to be taken seriously.'
Published: 27 Nov 2020
Recent News
What do you think?