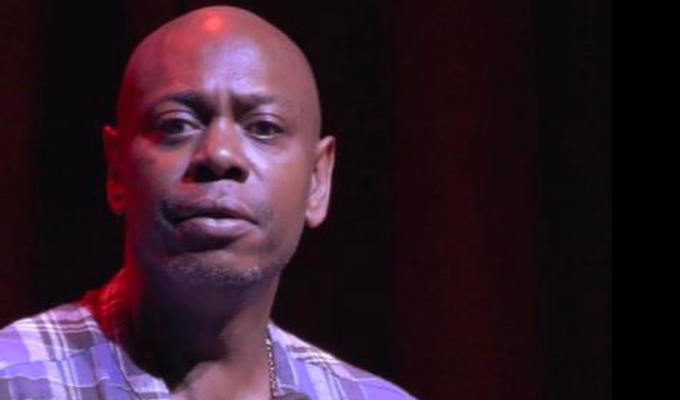 Netflix drops Chappelle's Show
Chappelle's Show has been removed from Netflix at the request of the comedian himself.
Dave Chappelle complained that he never saw any money from the deal that put the show on to the streaming platform, where he also has a lucrative deal for stand-up specials.
He made two seasons of the show for Comedy Central in 2003 and 2004, but walked away from the third series midway through filming, saying the pressure was too much.
Rights to the show are owned by Comedy Central's parent company ViacomCBS, which sold them on to Netflix for viewers in certain regions.
Chappelle posted a long video explaining the situation on to Instagram today, filmed during a stand-up performance.
In it, he said: 'People think I made a lot of money from Chappelle's Show.
'When I left that show I never got paid. They (ViacomCBS) didn't have to pay me because I signed the contract. But is that right? I found out that these people were streaming my work and they never had to ask me or they never have to tell me. Perfectly legal 'cause I signed the contract. But is that right? I didn't think so either.
'That's why I like working for Netflix…. when I found out they were streaming Chappelle's Show, I was furious. How could they not know? So you know what I did? I called them and I told them that this makes me feel bad. And you want to know what they did? They agreed that they would take it off their platform just so I could feel better.
'That's why I fuck with Netflix. Because they paid me my money, they do what they say they're going to do, and they went above and beyond what you could expect from a businessman.
'They did something just because they thought that I might think that they were wrong. And I do — I think that if you are fucking streaming that show you're fencing stolen goods.'
The comedian concluded by telling his fans to boycott his show on streaming platforms where it is still available, including HBO Max and several ViacomCBS owned sercixes.
'I'm begging you — if you ever liked me, if you ever think there was anything worthwhile about me, I'm begging you, please don't watch that show,' he said. 'I'm not asking you to boycott any network — boycott me. Boycott Chappelle's Show. Do not watch it unless they pay me.'
Chappelle also complained about his treatment at the thands of the media giants when he appeared on Saturday Night Live earlier this month. Evoking the memory of his great-grandfather, who was enslaved, he said: 'If he could see me now, he'd probably be like, "This n***** got bought and sold more than I have."'
Netflix paid Chappelle a reported $60million for three stand-up specials in 2016
Chappelle's show was not available to Netflix subscribers in the UK, even before this row flared up.
Published: 24 Nov 2020
What do you think?