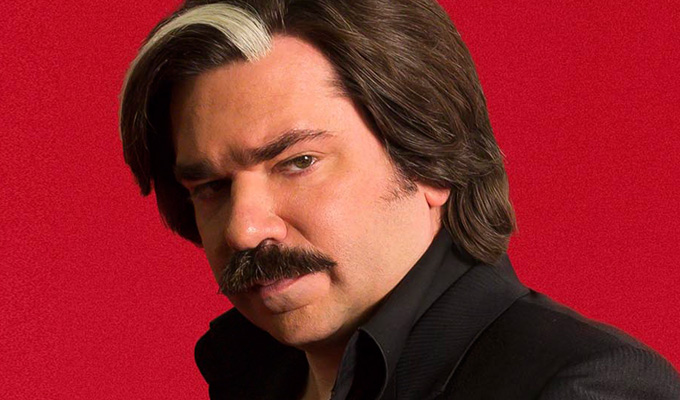 Raise a Toast – again!
Steven Toast is set for a comeback for the first time in more than five years – and this time he's going to Hollywood.
Co-creator Arthur Mathews revealed that he has written a new series with star Matt Berry, which is likely to be shot next year.
The new series, which Mathews said would be entitled Toast In America, may also move from Channel 4 to another broadcaster.
Mathews also said: 'It's attracted interest from Hollywood. Ben Farrell, one of the producers has been working very hard.'
The show – which has not been on air for five years – has a cult following in the US, where it is available on IFC and Netflix
'The idea is that he leaves Britain and goes to Hollywood,' Mathews told the Chortle Comedy Book Festival last night.
'It's set in America but it'll be shot it Britain; they've been doing that for years, like they did with Episodes.
'Quite a lot is written - there's five years worth of material! I had nothing to do in 2016 for some reason so I wrote a few episodes of Toast in case it ever came back.'
Explaining the long gap between seasons, Mathews said: 'It just seemed to drift off into the distance…
'Matt's been quite busy because he did the [Year Of The] Rabbit show for Channel 4 and the American show What We Did In The Shadows, though that's actually shot in Canada, and he's got his music career.'
Made by Objective Productions, three seasons of Toast Of London, each comprising six episodes, ran in 2013, 2014 and 2015 following a one-off pilot in 2012. Doon Mackichan, Robert Bathurst and Harry Peacock co-star.
Berry first sparked rumours of a fourth series back in 2017 when he told Mark Radcliffe and Stuart Maconie's 6Music show: 'Yeah, there will be [more]'… but giving no further details.
Last night, Mathews also spoke of his stage musical. Pope Ted, reuniting with Father Ted co-creator Graham Linehan to take up the story of Craggy Island's priests, but said it was still in slow development.'It's very hard to know what is going to happen with that,' he said.
He also said Preppers, a sitcom he had been developing about survivalists getting ready for the apocalypse might get a new lease of life in the wake of the Covid pandemic. 'The BBC said it might be relevant to the way we live again.' he said. 'There might be something that comes out of it… but who knows?'
Mathews was appearing at the book festival to promote his new title The Cummings Files: Thoughts. Ideas. Actions, a spoof diary written by the now-departed No10 aide Dominic Cummings. It's available here.
Published: 23 Nov 2020
What do you think?