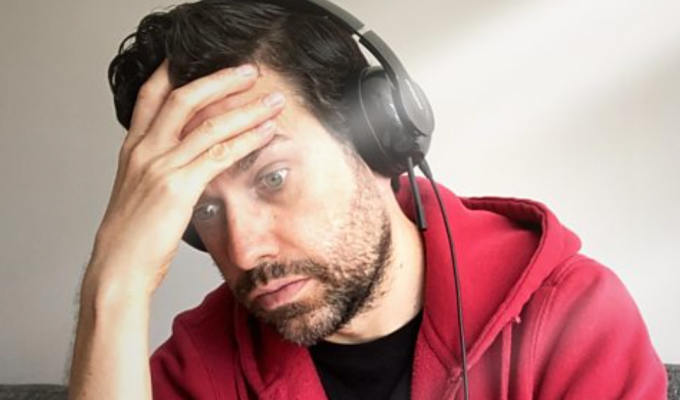 Trevor Noah apologises over Room Next Door style sketch
Trevor Noah has apologised to Michael Spicer for using his 'Room Next Door' idea on the The Daily Show – but nevertheless kept the sketch online.
Eyebrows were raised last month when the Comedy Central show featured a sketch about the US presidential debates in which correspondents including Ronny Chieng and Roy Wood Jr gave prompts to Donald Trump and Joe Biden.
EXCLUSIVE: Trump and Biden both wore earpieces during the debate. Here's what they were listening to: pic.twitter.com/supTOhVzZy

— The Daily Show (@TheDailyShow) October 1, 2020
It bore remarkable similarities to Spicer's internet sketches, versions of which he has also performed on The Late Late Show with James Corden.
'It was uproar,' Spicer said of the online reaction to The Daily Show's sketch. 'I couldn't believe it, and I couldn't believe the support.'
He said that the writers on America's satirical shows 'are all friends. They all hang out in LA,' so they must have known about the similarities.
'My agent sent the Daily Show message saying – and I'm paraphrasing, "what the fuck?",' he told the Chortle Comedy Book Festival this week.
'Trevor Noah sent an email to my agent with lots of these emojis and apologies and said he didn't know about me' – and included a clip of him executing a similar idea in his stand-up.
'It's bizarre,' Spicer said. 'But it was extraordinarily timely. I was very happy to be at the centre of controversy on Twitter when I have a book out.'
Spicer also spoke about his years spent balancing a job as a copywriter with his comedy ambitions, only quitting just before the first lockdown. 'I had to start teaching my children at home rather than embracing my new comedy career,' he said.
Speaking of the origins of the Room Next Door phenomenon, he recalled a day at work when he spotted Boris Johnson's bizarre interview trending on Twitter in which he spoke about making model buses out of wine crates.
'It just struck me it seemed like he's grasping for an answer, like he's expecting people to feed an answer to him,' Spicer said.
That night, he knocked out the video in about an hour, recording it in his front room .
'I put it out fairly late in the evening because I didn't think much of it,' he said. 'And then it got a million views in 24 hours. I had gone viral in the past, but not like this, it had gone crazy.'
He put out his second video the very next day.
'It was the Dalai Lama when he said he wouldn't mind if there was a female Dalai Lama if she was attractive, and some people said "you could do the same sketch".
'A light went off and I thought he could be a character. It was like viral gold. So I've got the Dalai Lama to thank for my comedy career.'
He said his Priti Patel skit was his favourite, saying: 'It's my Parrot Sketch, it's what I want to be remembered for'.
Asked if he ever regretted mocking a politician, he said: 'I think they are all incredibly awful, incompetent people. I've honestly never felt any kind of remorse for what I've done. If you put yourself on that pedestal and lie, then you're fair game.'
And he said right-wing politicians were easiest to mock.
'The real caricatures are on the right,' he said. 'I've written sketches with Jeremy Corbyn and thought, "that's not as funny" so I binned it. And they [the Tories] are the ones in charge, so they are going to get it.
'I've got no one to be responsible to… If I'm employed by the BBC to be even-handed, I could be, but then frankly 50 per cent of that will be rubbish. [Because it would target the left].
'My mum and dad are Conservatives they are very proud of what I've achieved but they don't like my stuff at all!'
Spicer said he was especially proud of his last video, which featured his evil doppelganger 'because that shows I would really like to make films!
'I've kind of thought of a film idea possibly, but I can't really say what it… but I want to write film with him in mind. I've got several feature film screenplays I want to be read so why not this too?'
Spicer was speaking to journalist and comedian Viv Groskop to promote his new book, The Secret Political Adviser.
• The comedy book festival continues today with Caimh McDonnell and Dave Cohen on self-publishing at 5pm, Laura Lexx at 7pm and Daliso Chaponda at 9pm. Click here for full details of all the festival's sessions.
Meanwhile, full season passes are still available for £49 here, giving full access to all 22 sessions – those you've missed will be available on demand after the festival is over for a month – plus six months' access to NextUp's library of stand-up specials, a bottle of wine, and discount on festival books
Published: 18 Nov 2020
What do you think?