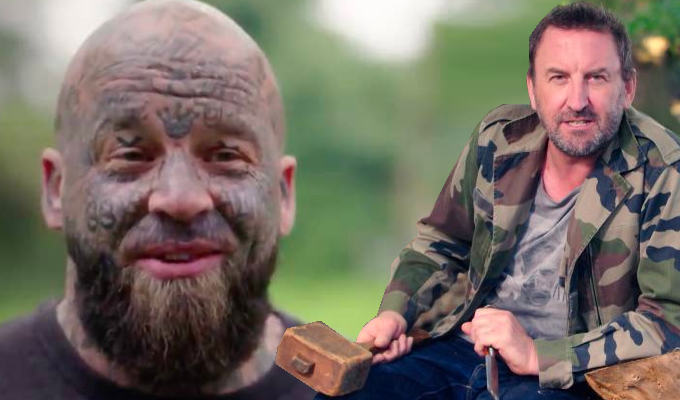 Lee Mack show suspended over Nazi concerns
Lee Mack's new TV show has been pulled off air amid fears one of the participants has Nazi tattoos on his face.
The comic fronts the Sky History craft show The Chop: Britain's Top Woodworker, which has come under fire on social media for featuring the heavily inked Darren Lumsden.
Tattoos include '88', which has been identified as 'white supremacist code for "Heil Hitler"' as H is the eighth letter of the alphabet.
He also carries the numbers 23 and 16 at the sides of his head, which the Anti-Defamation League says have been used to signify 'white power' using the same numerical code. Another reads 'homegrown'
However, Sky History bosses said they had done a background check on the Bristol-based woodworker and found the markings had personal meaning, and were not hate symbols.
In a statement online, they said: '"Darren's tattoos denote significant events in his life and have no political or ideological meaning whatsoever. Among the various numerical tattoos on his body, 1988 is the year of his father's death.
'The production team carried out extensive background checks on all the woodworkers taking part in the show, that confirmed Darren has no affiliations or links to racist groups, views or comments… any use of symbols or numbers is entirely incidental and not meant to cause harm or offence.'
However after the furore exploded online, the broadcaster said that future episodes would not be broadcast until the matter had been investigated again.
In the show, Mack interviewed Lumsden who told him: 'I'm known as the Woodman.'
Mack replied: I'm not gonna lie to you, Darren. If you were the bloke in my town, you wouldn't be known as the Woodman, you'd be known as the bloke with all the tattoos.'
In 2007, Lumsden also appeared on Channel 4 reality show Dumped, in which contestants had to live on a landfill tip to learn about environmental issues. But he walked off the programme after just three days, saying he wasn't going to learn anything. That show was also hit by controversy that some of the scenes had been faked.
Published: 21 Oct 2020
What do you think?