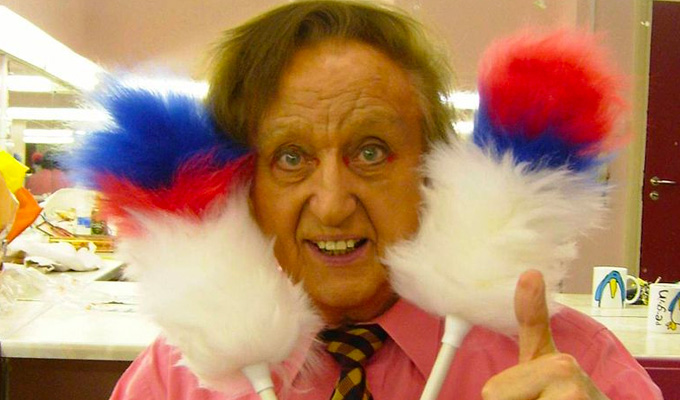 Liverpool declares a Doddy day
Liverpool is to celebrate one of its most famous sons with an official Doddy Day – on the weekend of what would have been Ken Dodd's 93rd birthday.
Several of the city's leading cultural institutions have got behind the November 7 event, which is being billed as 'a tattyfilarious festival of all that is good about comedy and the impact it can have on people's health'.
The centrepiece of Doddy Day on will be The Happiness Show, a family-friendly, socially distant gig at the Royal Court theatre featuring Les Dennis and others.
There will also be a joke competition and a Jam Butty Cake Bake Off between David Assall, head chef at the Royal Court, and James Behan, who has the same role at National Museums Liverpool.
The event is being backed by Lady Dodd, whose Ken Dodd Charitable Foundation has provided some funding for the day.
She said: 'Ken always used to say he was a double act – me and the audience - and Doddy Day is about that sharing of laughter and happiness. Liverpool is a city full of people who like to exercise their chuckle muscles, a place of incredible spirit and that's what Doddy Day is celebrating.'
The event is being organised by The Comedy Trust, which seeks to use comedy to improve people's health, in line with the late Eric Sykes's quote that: 'One show of Ken Dodd's is worth six months on the National Health'.
Sam Avery said: 'We've been using humour to create happier, healthier people of all ages for nearly two decades. As huge fans of Doddy, we're really excited to celebrate his life and legacy in the city he loved.'
Gillian Miller, chief executive of the Royal Court, said: 'The whole day will focus on bringing a smile to people's faces and even a chuckle or two. Liverpool is a city that is world renowned for the way it uses humour and wit to survive through difficult times. Comedy is in our DNA and we need it now more than ever."
Paul Gallagher, of National Museums Liverpool, said of Dodd: 'Apart from being a genuine star, his unrivalled wit and warmth epitomised the character of the people of Liverpool and we're sure he would be delighted about a jam-butty bake-off in his honour. But more importantly, his desire to bring happiness into people's lives and his belief in the power of laughter to heal is why we need Doddy Day.'
More details of the day are available here.
Published: 1 Oct 2020
What do you think?