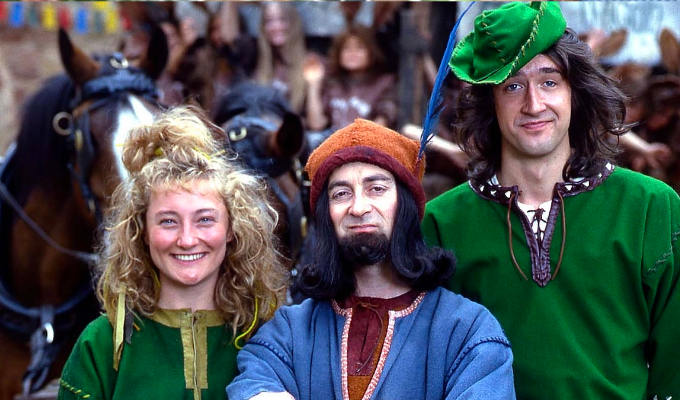 Could Netflix revive Maid Marian and Her Merry Men?
Sir Tony Robinson has been in talks with streaming giant Netflix to reboot classic 1990s kids' comedy Maid Marian and Her Merry Men.
The Blackadder star created and wrote the BBC cult comedy, as well as starring in it as the Sheriff of Nottingham, when it originally ran from 1989 to 1994.
Plans to develop a stage version of the show have now been scrapped Sir Tony revealed to podcast Celebrity Catch Up, but said it could be revived for the streaming service instead.
'We were talking about the possibility of doing a West End musical of Maid Marian last year and the year before, but in a way Covid knocked it on the head and it wasn't going in the right direction anyway,' he told host Genevieve Hassan.
'But I'm now talking to Netflix about the possibility of some kind of revamp of Maid Marian in the future which would be very exciting.'
The original series also starred Kate Lonergan as Marian, with Adam Morris as Robin, Danny John-Jules as Barrington and the late Howard Lew Lewis as Rabies.
However Sir Tony said a reboot would feature a new cast.
'I'd kind of like to start again,' he said. "' would like to discover that voice of the television Marian from scratch. I've got some ideas which I'll keep absolutely under wraps. As soon as I told you some of the people we had in mind for the cast you'd get where I was going - but I'm not going to!'
• Celebrity Catch Up is available on Apple Podcasts, Spotify, Google Podcasts and all major platforms.
Published: 1 Oct 2020
Recent News
What do you think?