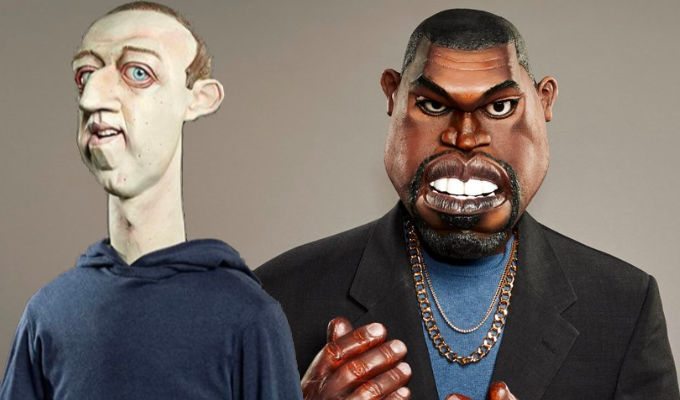 'We might have been racist in the 1980s - but not any more'
Spitting Image creator Roger Law has defended the returning show against charges of racism – but admitted the show did go too far in the 1980s.
The puppet satire has been blasted by some on social media over its portrayal of figures such as Kanye West and Beyoncé, ,even before its launch on BritBox this coming Saturday.
Speaking specifically about charges that his puppet of Facebook boss Mark Zuckerberg was antisemitic, Law said: 'Well screw it, you know. People sit around looking for things to complain about. I do big noses and big ears. It's personal – it's not a racist thing.'
When the Zuckerberg caricature was unveiled, the Campaign Against Antisemitism said: 'Spitting Image should explain why a Jewish personality has been caricatured to appear with a gratuitously large, hooked nose and ghoulish appearance, when in real life Mark Zuckerberg is not associated with either of those physical features. Satire is integral to comedy and a vital part of our public conversation, but it should be based in reality and not on lazy and offensive stereotypes.'
But in his new interview with the Radio Times, Law said that personal parody 'has more effect on individuals than waxing lyrical about their policies. Everybody cares about how they look. I'm wearing my hat now because I'm virtually bald – we're all at it.'
'Some of the things we did in the 1980s might now be called racist, but you can't do that now - we're not and we wouldn't.'
He added of the new complaints: 'All that nonsense on social media? I mean get a life. There are bigger things to worry about, especially now.'
Law created the show - which first aired on ITV in 1984 – with Peter Fluck, who went on to work as a serious fine artist.
And he admitted to the Radio Times that he had fallen with everyone on the original show, bar producer John Lloyd, but adding that hasn't happened with new producers Avalon 'yet'.
He said that he wouldn't let critics hold him back, saying: 'We'll get some nonsense, but in the main with BritBox you have more freedom.
'We've done several things which we couldn't have done with ITV. You can't have people tweeting with their bum on regular television.'
That's a reference to a sketch in the pilot, in which Donald Trump tweets with his extended colon while in bed with Melania.
Although that scene doesn't sound too sophisticated, Law insists that compared to the 1980s incarnation of the show, now 'the scripts are smarter - the original was crude'.
Law also told how a US version of the show was sunk by a sketch written by Ian Hislop. The skit showed Ronald Reagan, who had just been diagnosed with skin cancer, with a plaster on his nose – prompting nervous American network executives to pull the entire show.
• The new issue of Radio Times is out now. Spitting Image will be on Britbox from noon on Saturday. Here's a trailer:
Published: 29 Sep 2020
Recent News
What do you think?