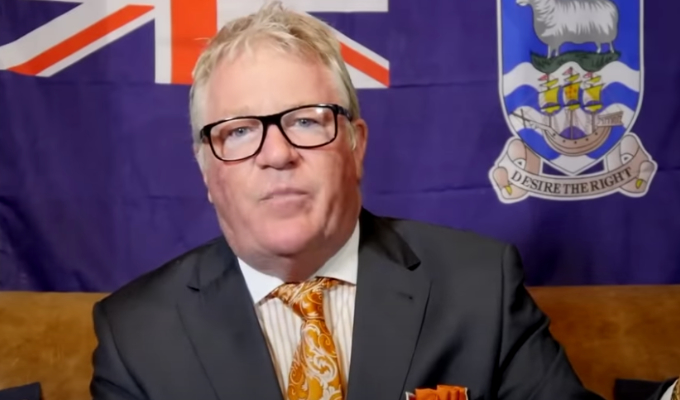 Surprise! Jim Davidson goes on a racist rant
Jim Davidson has been widely condemned as racist after releasing YouTube video saying dance troupe Diversity should perform a routine about black men mugging people.
The 66-year-old comedian also said Asian families were ignoring coronavirus restrictions and are living in 'a bubble of 300 in a fucking house'.
He was speaking in response to the complaints about Diversity's dance routine on Britain's Got Talent stage that was inspired by the Black Lives Matter movement and featured a brief recreation of the images of George Floyd struggling to breath beneath a policeman's knee.
In the video, Davidson ranted: 'Diversity, what the fuck do you want?'
'You just want to be famous don't you. You want to be all around the world. That's why you do it, you don't give a fuck about George.'
Davidson went on to complain about increased representation on TV, whining: 'You don't see white couples on adverts anymore, do you? Most TV presenters are non-white.
'The Golden Girls, you know that film The Golden Girls with all them old birds? That's being made by black people.'
The subject of his ire was that US actresse Tracee Ellis Ross, Regina King, Alfre Woodard and Sanaa Lathan staged a one-off Zoom recreation of the sitcom (it's not a film) last week.
He said that while many people backed Black Lives Matter: ' Gemma's sister [it's not clear who this is] is not holding up a banner as she was violently mugged by three black men. Perhaps Diversity can do a mugging thing.'
Speaking of Covid-19 he said: 'The BAME community, what the fuck that means. The Asian community who have big families are taking no notice and staying together.
'They have a bubble of 300 in a fucking house. This is why it is happening in these areas. These areas are predominantly BAME areas.
'So fucking sort yourselves out, rather than walking around doing knees and protesting.'
His rant prompted a time of comments about an 'archaic, washed-up, unfunny "comedian"…. seeking attention', about being 'racist', 'vile' and an 'utter disgrace.'
Published: 16 Sep 2020
What do you think?