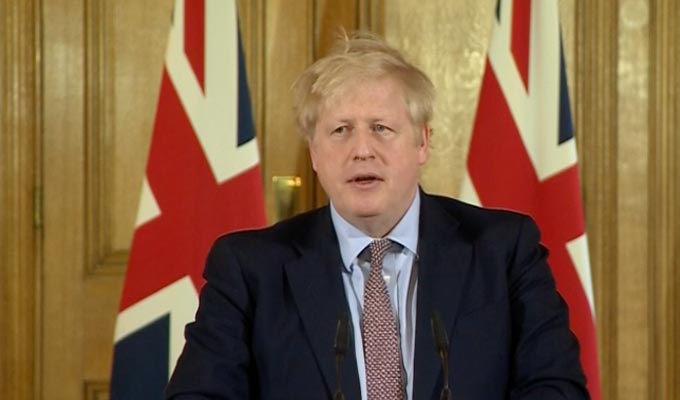 Sorry folks, comedy clubs CAN'T reopen
The government has performed an abrupt U-turn and told comedy clubs in England that they CANNOT now reopen tomorrow.
Venues have been given just a few hours notice that the plan to move to the so-called 'level four' of lockdown, allowing indoor gigs with social distancing, have been abandoned.
The last-minute move has been blamed entirely on soaring rates of transmission of the Covid-19 coronavirus, and did not stem from the performance two pilot comedy gigs in Manchester and Nottingham this week.
Boris Johnson has vowed to reassess the issue again in two weeks, but the increased uncertainty is bad news for businesses trying to plan for the future.
Jessica Toomey, director of Manchester's Frog and Bucket comedy club, which hosted the UK's first pilot gig on Wednesday, told Chortle: 'This is a huge blow to the club and the industry as a whole.
'We've put a considerable amount of time and investment gearing up to re-open again and this devastating news has put us several steps behind now, especially with the hard work of installing audience confidence.'
Brid Kirby, chair of the recently-formed Live Comedy Association trade body added: 'While public safety must remain the primary concern from Government, we are extremely frustrated by the announcement made with less than 24 hours notice. This change shows a lack of understanding about how live comedy and the wider performing arts operate.
'The industry cannot begin to rebuild if guidance can change this last minute. This means more jobs and more income lost for the foreseeable future.
The new announcement was made at a Downing Street press conference, where Johnson said: 'I won't stand by to see this virus cause more pain and heartbreak around this country. We have to act rapidly to protect those we love.'
He said that he always said the reopening plan had always relied 'on continued progress against the virus' and said that as rates of infection rise, 'e should now squeeze that brake pedal in order to keep that virus under control.'
So he said that plans to reopen 'higher risk settings' such as comedy clubs and other indoor performances will be postponed until August 15 at the earliest.
It comes as the latest estimate for the R rate of reproduction of the coronavirus across the UK has been put at between 0.8 and 0.9. Any number greater than one means an exponential growth in the virus's spread. 'However, we are starting to see early indications that these values may be increasing,' the Government Office for Statistics said.
Just a couple of hours earlier, Health Secretary Matt Hancock has specifically assured comedy clubs in the north of England that they would not be affected by the tightened lockdown rules suddenly imposed on the region late last night.
Earlier in the week, clubs and theatres were told that the government would not even consider allowing them to reopen without social distancing in place.
The Prime Minister made his announcement that venues would allowed to be reopen with social distancing just two weeks ago, on July 17. At the time he said his timetable for reopening businesses 'is contingent on every one of us staying alert and acting responsibly', but the plan was said to be at odds with the advice from government scientists.
Published: 31 Jul 2020
What do you think?