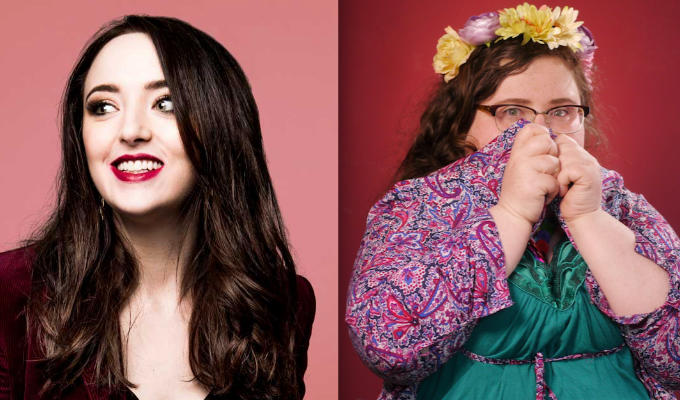 BBC podcast for Alison Spittle and Fern Brady
Alison Spittle and Fern Brady are to host a new podcast for BBC Sounds.
In each episode of Wheel Of Misfortune, they pick a theme at random to talk about, with topics including bullying, parents, tattoos or theft.
The BBC call it 'a no-holds-barred podcast which will feature their most embarrassing, bleak and cringe anecdotes that make each other laugh'.
The first episode will be released on August 4 with guest Lou Sanders discussing virginity. Further guests include Blindboy, Sara Pascoe, Joe Lycett and Deborah Frances-White. They are also inviting listeners to send in their own grim tales
Spittle said: 'I'm delighted that I'm doing a BBC podcast with my friend Fern, she's very funny and has horrific stories and gives great WhatsApp voice notes.
'We wanted to do a podcast where we could hear voice notes from the public on a different subject each week. I made a real Spinning Wheel with subjects such as pets, tattoos and housemates, which one will come next? It's like penny drop with shared trauma instead of coins.
'This is a podcast for people who love to hear glib yet funny anecdotes, basically we made a podcast for us and other people can eavesdrop and contribute their stories too.'
Brady added: 'I've made a name for myself doing blunt, honest comedy and I became friends with Alison cause she'll talk about the bleakest stuff with a lightness of touch.
'We have the best times when we sit around laughing and telling stories at each other's' houses and we both enjoy podcasts that feature members of the public instead of just celeb guests. We wanted to make something that not only has us having a laugh together but involves our audience as well.'
A teaser has been released here.
Published: 29 Jul 2020
Recent News
What do you think?