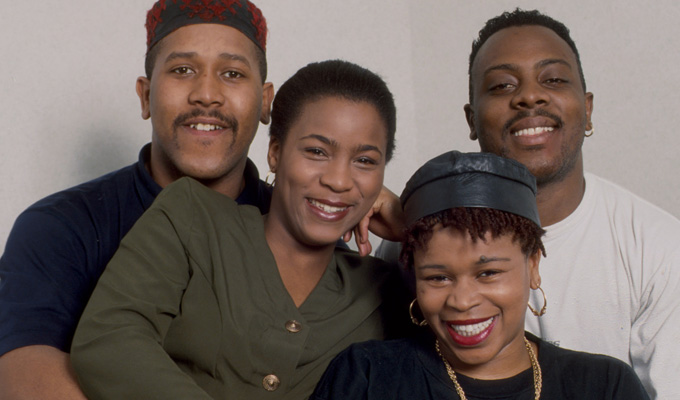 Finally! The Real McCoy comes to iPlayer
Every episode of influential sketch comedy show The Real McCoy has been released on iPlayer.
Fans of the groundbreaking series, which ran from 1991 and 1996 featured a predominantly black and Asian cast and writing team, have long campaigned for the show's repeat or release on demand.
However, with broadcasters increasingly under scrutiny over the diversity of the output, the BBC has finally relented to pressure.
The Voice newspaper, aimed at Britain's black community, has been leading a campaign since 2012 for The Real McCoy's return, but was initially told by Corporation chiefs that: 'We do not feel there is a big enough market to justify the investment.'
It was finally released to purchase in 2017, but today's iPlayer release is the first time the show has been available free since it was originally on the air, 24 years ago.
Leo Muhammad, one of the show's original cast members accuse the BBC of 'jumping on the bandwagon and delivering a token gesture' in the wake of the revitalised Black Lives Matter movement.
But he told The Voice: 'I suspect it's a smokescreen to try and pacify us and then it will be back to business as usual'
The show's producer Charlie Hanson welcomed the iPlayer move but said the BBC also needed to 'step up and develop more black writing and performing talent'.
The Real McCoy provided an early platform for comedy stars like Robbie Gee, Llewella Gideon, Curtis Walker, Felix Dexter and Eddie Nestor, as well as Meera Syal, Sanjeev Bhaskar and Kulvinder Ghir, who went on to star in another sketch show Goodness Gracious Me.
Shane Allen, controller of comedy commissioning at the BBC, said: 'This seminal sketch show broke down barriers and gave diverse comedy a crucial mainstream platform in the early 90s. It laid the foundations for inclusiveness and representation that we're continuing to build on today.'
In 2017, the BBC established the Felix Dexter Bursary into help train and develop aspiring comedy writers from a black, Asian and minority ethnic background in honour of the Real McCoy star who died in 2013.
Recipients of the bursary have honed their comedy writing skills on BBC shows including Famalam, This Country, Mrs Brown's Boys and BBC Radio 4's Newsjack. This year's recipient is stand-up Athena Kugblenu.
All five series of The Real McCoy are available here.
The Voice's Davina Hamilton writes about the campaign to bring the show back here.
Published: 29 Jul 2020
What do you think?