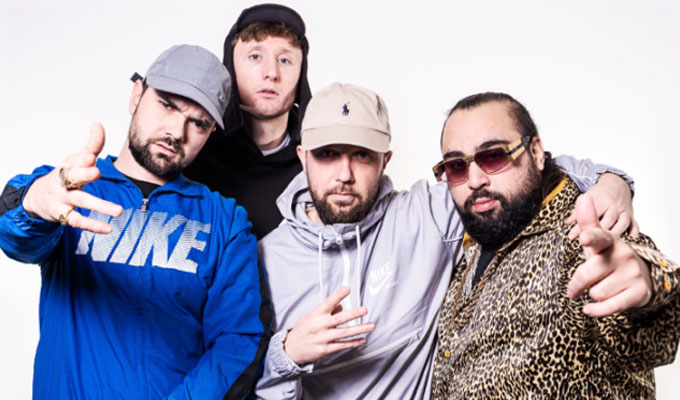 Kurupt FM named best comedy podcast
The Kurupt FM show from the People Just Do Nothing team has been name best comedy at the British Podcast Awards.
MC Grindah, DJ Beats, DJ Steves and Chabuddy G returned to make the series for Audible last summer.
Silver in the category went to Brian & Roger, featuring Harry Peacocka nd Dan Skinner as two divorced men who met at a support group, while Dear Joan & Jericha, in which Julia Davis and Vicki Pepperdine play useless agony aunts took bronze.
Rule of Three, in which writers Jason Hazeley and Joel Morris deconstruct a great work of comedy with a guest, won the best arts and culture podcast.
Morris tweeted: 'Bloody hell. Nattering about comedy counts as culture! This proves it. Best Culture Podcast 2020! Thanks to all the brilliant guests who gave their time and enthusiasm to make this thing work. WE WON!'
While Hazeley was even more direct, tweeting just: 'Crumbs'
Chris & Rosie Ramsey's Shagged Married Annoyed won the listeners' choice award, based on fans' votes.
Rosie - who has just revealed she is expecting their second child - wrote on social media: 'Thank you, thank you, thank you so much to all of you who took the time to vote.
You have no idea how much this means to us! We are absolutely ecstatic right now and life feels, well? Pretty wonderful! (Except COVID. COVID can F off.)'
The Rob Auton Daily Podcast won the best daily podcast; Deborah Frances-White's The Guilty Feminist won the Spotlight Award and David Walliams' Marvellous Musical Podcast took best family podcast.
Auton called the accolade 'a shot in the arm':
Oooof thanks big style to the @britpodawards for the shot in the arm last night. I love working on the @robautonpodcast so was chuffed to get a knock on the door. Thanks to Ben and Naomi @plosiveprods for their work on it and to anyone who listens to it. pic.twitter.com/QUtbyHqUKY

— Rob Auton (@RobertAuton) July 12, 2020
Published: 12 Jul 2020
What do you think?