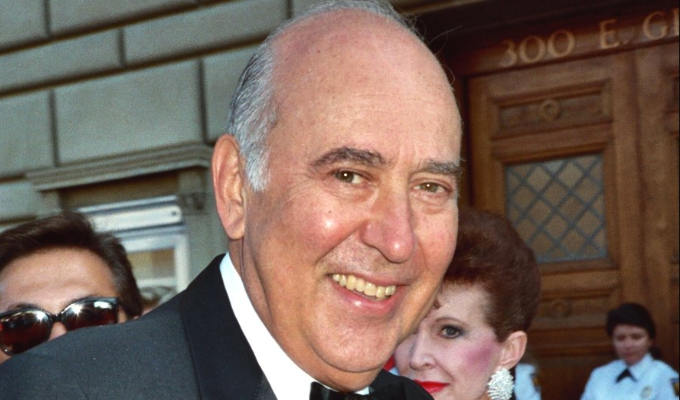 Carl Reiner dies at 98
Comedy legend Carl Reiner has died at the age of 98.
He died of natural causes last night at his home in Beverly Hills, his representatives have confirmed.
Born in the Bronx, Reiner started his career in the 'Borscht belt' resorts of upstate New York.
He first came to prominence as a writer and regular cast member of Sid Caesar's landmark TV variety programme Your Show of Shows in the 1950s, where he began his long-running friendship and comedy partnership Mel Brooks, including the recurring '2,000-Year Old Man' sketches.
Reiner went on to create The Dick Van Dyke Show, which ran for six years from 1960, and direct several hit films, including Oh God, starring George Burns in 1977 and Steve Martin's early films: The Jerk, Dead Men Don't Wear Plaid, The Man With Two Brains and All Of Me.
More recent appearances include the Ocean's Eleven films and recurring roles on Two And A Half Men and Hot in Cleveland, plus voice work for shows including Family Guy, American Dad, King of the Hill and Bob's Burgers. Only last week he appeared in the YouTube series Dispatches from Quarantine.
He was also the father of filmmaker Rob Reiner, who tweeted: 'Last night my dad passed away. As I write this my heart is hurting. He was my guiding light.'
His wife Estelle, died in 2008, after 65 years of marriage, and they had two other children: author Annie and artist Lucas. Estelle delivered the famous 'I'll have what she's having' line in When Harry Met Sally.
In one of his last tweets, posted on Friday, Reiner wrote: 'Nothing pleases me more than knowing that I have lived the best life possible by having met & marrying the gifted Estelle (Stella) Lebost---who partnered with me in bringing Rob, Annie & Lucas Reiner into to this needy & evolving world.'
Among those paying tribute today was MASH star Alan Alda, who posted: 'My friend Carl Reiner died last night. His talent will live on for a long time, but the loss of his kindness and decency leaves a hole in our hearts. We love you, Carl.'
Sarah Silverman added: 'So sad to hear about@carlreiner Not only did he make my favorite TV& movies (see:Where's Poppa) but his humanity was beyond compare. His heart was so full of love. Never left his house empty handed- book, space pen, Swiss Army knife. RIP to a man that embodies the word mensch.'
Lou Grant star Ed Asner said: 'Very sad to awake to the news that @carlreiner has passed. There will forever only be one of him. May his memory be forever blessed. He leaves us with so much laughter. My heart goes out to@robreiner and the entire Reiner family.'
And Seinfeld star Jason Alexander wrote: 'Carl Reiner was comedy genius. Often that genius made other funny people even funnier. But give him a stage and he could spin laughter out of any moment. I watched him do it time and again. His contributions to comedy are eternal. And a lovely man, as well.'
Here's a version of Reiner's recurring sketch 2,000 Year Old Man with Mel Brooks originally aired on the Colgate Comedy Hour in 1967.
Published: 30 Jun 2020
What do you think?