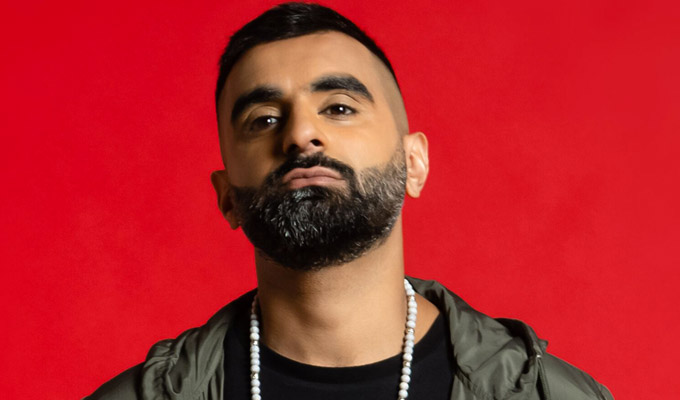 'I'm sorry for being part of the problem'
Tez Ilyas has stepped down from the steering group of new industry body the Live Comedy Association after admitting 'inappropriate behaviour' towards women.
In social media post this week, the comic said an outpouring of horror stories from women the circuit had caused him to reflect on his 'unacceptable' treatment of women.
Without going into detail he said he appreciated those who called him out on his behaviour, describing it 'as a kind of intervention'.
And speaking of a toxic culture, he said: 'As imperfect as I am, I will continue to listen and learn and unclear and call our male colleagues, friends and fans who display misogynistic and inappropriate behaviour'.
After that was posted on Wednesday, the Live Comedy Association (LCA) said 'further concerns' were raised with them – and following discussions with Ilyas it was agreed he should step down.
He had been the comics' representative on the steering group of the body, which was set up to help the industry get back on its feet following the coronavirus crisis.
Yesterday the body said it would also be taking action to combat the 'abuse, misconduct, and harassment' that blights every corner of the live comedy business'.
Announcing Ilyas's departure today, the body stated that its representatives should be held to a high standard.
In a new statement today, the comedian – who has had his own shows on Channel 4, Radio 4 and a starring role in BBC Three's Man Like Mobeen – said he agreed that he should stand down, and said he hoped he would be replaced by a woman.
Of his own actions, he said: 'Now is the time for personal accountability, and I want to say, as honestly as I can, to any woman I have hurt with my previous unacceptable behaviour, I am truly sorry.
'The past few years have been a time of real learning for me, but I can't say that's all behind me if I don't do the work to understand the impact my behaviour had.
'This includes things I genuinely didn't realise were problematic at the time, but with greater understanding of these issues now realise how they were. This isn't just "being a lad". The way I sometimes used women for my own personal gratification is just not ok.
'One to two difficult conversations won't magically fix everything. This work is a process and I still have much work to do… I promise you all I will be better
And he implored other men in comedy to reflect on their own behaviours, saying: 'I want to thank all the women who have been speaking openly and honestly with me on this industry-wide problem. Your stories and experiences are truly terrible and as I have learnt, horrifically commonplace.
'I'm sorry for being part of the problem.'
Published: 26 Jun 2020
What do you think?