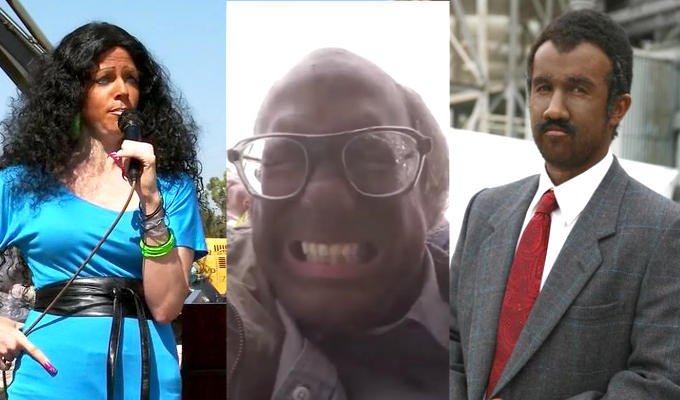 Netflix pulls more comedies over blackface
Netflix has removed more comedy shows because of blackface.
The streaming service has removed five episodes of It's Aways Sunny In Philadelphia and one episode of David Cross and Bob Odenkirk's sketch show W/Bob and David because they depicted white actors darkening their skin.
One of the Always Sunny... episodes, Dee Day, comes from the latest series which only premiered in the US in October
The episodes dropped from the streaming service are:
America's Next Top Paddy's Billboard Model Contest, from 2008, in which Dee (Kaitlin Olson) invents two offensive characters in an attempt to become famous, or notorious, on Youtube: Martina Martinez, and Taiwan Tammy, a character that even Charlie (Charlie Day) calls 'extremely racist'.
Dee Reynolds: Shaping America's Youth, from 2010; in which Mac (Rob McElhenney) blacks up as the crew shoot their own version of a Lethal Weapon film. In the show, the characters argue whether blackface is racist, artful, or hilarious.
The Gang Recycles Their Trash from 2012, which Dee reprises her Martina Martinez creation
The Gang Makes Lethal Weapon 6, from 2013, which repeats Mac's blacking up to play Danny Glover's character Murtaugh
Deed Day, from 2019, in which Frank (Danny DeVito) and Mac black up to play Dee's racist alter-egos Martinez and Tammy for a play Dee is staging. as part of a day in which she's allowed to do what she wants. In the script, the other characters acknowledge it is it 'insanely racist'.
Meanwhile, Netflix has also pulled a 2015 episode of W/Bob and David because of a sketch called Know Your Rights, featuring Cross in blackface.
Cross himself pointed out the decision, tweeting: 'Hey all, Netflix is going to pull this sketch from With Bob & David because the ridiculous, foolish character I play puts on "black face" at one point. The point of this was to underscore the absurdity...well, here's your last chance to figure it out.'
He then linked to the scene on YouTube, which has since been deleted. In the sketch Cross appears without makeup, trying all he can to provoke a police officer, eventually trying blackface, whereupon he is attacked.
Odenkirk also defended the sketch via Twitter, saying: 'We considered every choice we made doing our show, and always aimed to make you laugh and think, and never make an obvious or easy point...that very much includes this sketch'
Netflix last week pulled Little Britain, Come Fly With Me, The League Of Gentleman and the Mighty Boosh over blackface
Published: 17 Jun 2020
What do you think?