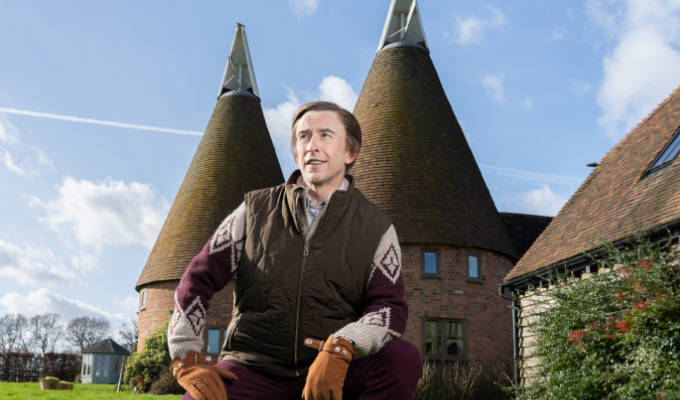 It's official: Alan Partridge podcast coming soon
Alan Partridge's new podcast has officially been confirmed.
Steve Coogan is recording an 18-part series for Audible called From The Oasthouse, to be released all at once on September 3.
According to the publicity, the series will 'introduce one of the nation's best-loved broadcasters to a young, diverse and digitally-engaged audience. Without the BBC or North Norfolk Digital's editorial management breathing down his neck, this new podcast will give Partridge the opportunity to fully realise his creative vision, in the highest quality audio.'
The first episode has just been released as a teaser via Alexa. If you have an enabled device or app, ask it: 'Alexa, read From the Oasthouse.'
Partridge said: 'Like most people, I assumed those who hosted podcasts were pale, tech-obsessed social lepers who live with their mums and couldn't get a platform on any meaningful broadcaster so started spouting their bloated opinions into their USB microphones to flatter their groaning sense of self-importance.

'But then I spoke to a man I'd never heard of before from Audible. HE called ME and made me an offer. I countered. He came back. I countered again. In short, we hammered out the details (to my satisfaction) and the result is a series of podcasts. They've been described as very good/sensational.'
Chortle first reported on From The Oasthouse in February when Coogan told Absolute Radio's Dave Berry about the project, saying: 'They're very sort of one-on-one. If anyone wants Alan up close and personal in their own space then the podcast is an opportunity.'
He is also working on a second series of his BBC One show This Time, while on a spoof UK travel history series- provisionally entitled And Did Those Feet, With Alan Partridge - is also in the pipeline.
The full series of From The Oasthouse will be behind Audible's paywall, although new members get a month's free subscription.
Published: 5 Jun 2020
What do you think?