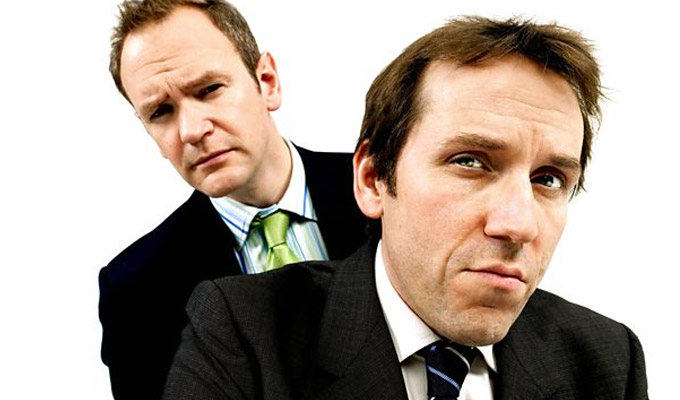 Armstrong and Miller reunite to revive their podcast
Alexander Armstrong and Ben Miller have reunited to relaunch a comedy podcast.
The pair have not collaborated on a major project for more than a decade, with the last series of The Armstrong & Miller Show airing on BBC One in October 2010 followed by a live tour.
In the new show, Timeghost, which has launched today, the pair play cultural commentators Martin Baine-Jones and Craig Children discussing what's on the zeitgeist, often without even having seen the work they are commentating on.
They previously made 26 episodes of Timeghost for The Times in 2009, but three new episodes dropped today on all the major providers through the Acast network
The show is the first to be made by a new podcast division formed by broadcaster Hat Trick, whose credits include Have I Got News For You?, Derry Girls and Hypothetical.
Jimmy Mulville, the company's managing director, said: 'It's a real event in the comedy world when Armstrong meets Miller. This podcast series has them at their laugh-out-loud best.'
Acast's Sam Shetabi said: 'Armstrong and Miller are comedy double-act royalty, so welcoming them to the Acast network gives us two more reasons as to why we're home to the best comedy podcasts.'
Hat Trick's podcast division will be run by executive producer Claire Broughton, who previously worked on the Armstrong and Miller Show, along with producer Andy Goddard, whose credits include the podcast Wooden Overcoats.
Since their last tour, Armstrong and Miller have largely focussed on solo projects, with Armstrong hosting Pointless and recording musical albums, and Miller starring in Death in Paradise and writing popular science books.
However, in 2018 they reunited to present a one-off show called We Are Most Amused and Amazed to mark the 70th birthday of Prince Charles, and in December there was talk of a sitcom, with Miller telling the Daily Mail: We're working on ideas but want to know it's all right before we show anyone.'
Listen to Timeghost on Acast here.
Published: 20 May 2020
What do you think?