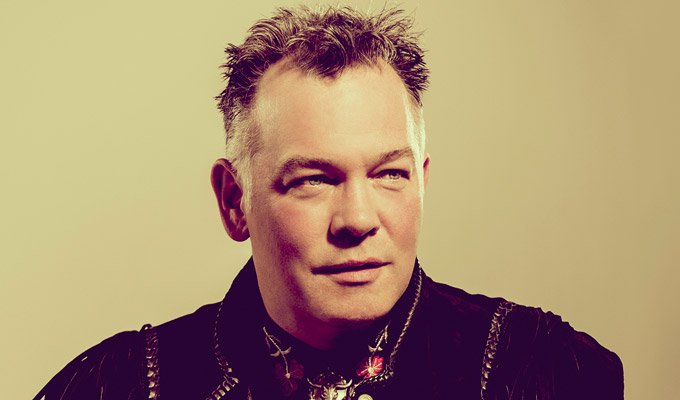 Antisemitic... or just stupid playground insults?
Stewart Lee has been accused of antisemitism after mocking the surname of Tory MP Tom Tugendhat.
The comedian used his column in yesterday's Observer to ridicule the Tonbridge MP for brown-nosing Boris Johnson over the Prime Minister's much-ridiculed 'stay alert' message which Lee considered an 'offensively stupid night soil bucket of obfuscation', but which Tugendhat praised as 'a very clear message'.
Amid the usual stream of absurdity, Lee mocked the Tory's surname, writing: 'Many names – Fisher, Cook, Smith – derive from ancient trades. But "Tugendhat" is just different words put together, like Waspcupfinger, or Appendixhospitalwool, or Abortionmaqaquesymptom'.
He went on to conjure up an image by clarifying that the former intelligence officer's uncle, Baron Tugendhat 'is not a character from a 19th-century German children's book about a baron with a weird hat, the end of which gets tugged.'
The MP himself described the article as a 'dog whistle' for portraying Jews as foreigners. And he added: 'Antisemitism is now so mainstream this no longer surprises me.'
He received widespread support from the Jewish community and beyond.
Actress Tracey Ann Oberman, as seen on Friday Night Dinner, EastEnders and Toast Of London, tweeted: 'It amazes me that I assumed the dog-whistle racism would have skulked off from the Left in December. I was wrong. Our Left should be better. It's where all the minorities to this new country started.'
Jewish Chronicle editor Stephen Pollard wrote on his newspaper's website about how '70 years ago my dad needed to change his weird foreign name [from Polak] to avoid the sly glances of bigots' and said Lee's mocking of Tugendhat's name is 'the very definition of racism - specifically, of antisemitism'.
Dave Rich, a scholar of antisemitism, tweeted: 'Even if Stewart Lee doesn't know this history and doesn't know Tom Tugendhat's Jewish ancestry - making fun of people for having foreign-sounding names is playground-level racism. It's pathetic'
And Jonathan Greenblatt, chief executive of America's Anti-defamation League tweeted: 'Mocking a Jewish politician's name as not sufficiently "English," is #antisemitic. Truly disgraceful to see the @guardian publishing something so hateful.'
Former Chancellor Sajid Javid added that The Observer's sister paper, The Guardian 'published a racist cartoon of Priti Patel a couple of months ago, and now this. Asians, Jews... who's next?'
However, many also defended Lee, pointing out his history of challenging inequality, and the context of the piece, and suggesting the right were acting like 'snowflakes' to score political points
One fan said: 'Stewart Lee has more decency and talent than the whole of the editorial board of the Mail, every employee of the Taxpayer's Alliance and each and every Tory MP pretending to be offended right now.'
Another posted: 'Anyone bitching about this mustn't know Stewart Lee's work. I can imagine him saying some of this on stage, and the implications would be more obvious. Definitely not a racist.'
And a third said: 'Not sure how much of lee's work you have seen but I think you have completely misunderstood him, which would greatly amuse the stage character Stewart Lee. He is a highly intelligent comedian who sometimes throws in a bit of childish silly humour like mocking an unusual name.'
LBC presenter James O'Brien said: 'Surely Stewart Lee wasn't mocking the actual foreignness of Tom Tugendhat's name? He was poking fun at the fact it consists of three English words - tug, end & hat - while many names consist of just one. It's not a rich seam of comedy for me but that's hardly a hangable offence.'
However, the argument has attracted some support Lee might not welcome.
The website Spiked, which has been accused of promoting a right-wing agenda under the cover of free speech, backed the right of Lee – who they called a 'dull-as-shit Remoaner' – to make a joke, even if they thought it wasn't a good one.
But as Lee wrote in the Guardian in 2018, after the YouTuber in the 'Nazi pug' case became a cause celebre for the alt-right: 'If Breitbart or Spiked can roll out your comments approvingly online you have fucked up.'
Lee's publicist told Chortle he would not be commenting on the row, other than to accuse Spiked of "pathetic virtue signalling'.
Published: 18 May 2020