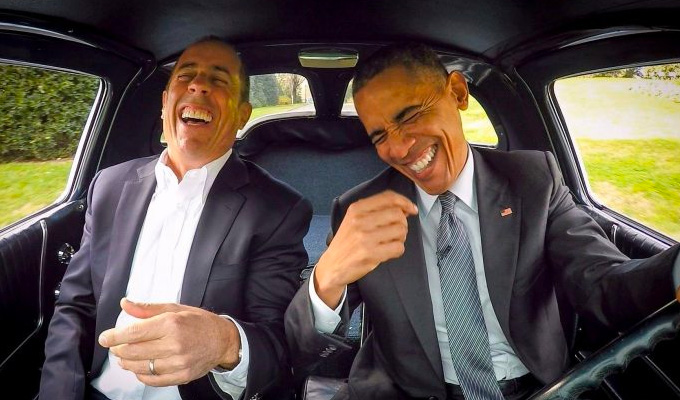 Comedians won't be getting in any more cars to get coffee
Jerry Seinfeld is preparing to park Comedians In Cars Getting Coffee permanently.
The comic says the interview series is far harder to film than it looks and that after 84 episodes, he wants to move on.
Speaking at a virtual press conference yesterday, he said: 'We haven't planned anything [more] with that show. I feel like I did that tour
'I know they look very casual and easy but they're actually a lot of work to make, the editing is very intense and I don't know, I feel like I may have done that exploration at this point.'
He was speaking to promote his Netflix special 23 Hours To Kill, which launches today – and which also may be his last for a while as he wants to concentrate on the joy of performing without being tied to a deal.
'I feel like I just want to be out on a stage, I don't really care where, I don't care what size of venue, it's just about enjoying that moment and it doesn't have to be big or a conventional showbusiness venture,' he said.
And as to whether stand-up might return to theatres and clubs, he mused: 'We have to take a cue from the audience [and] what they feel comfortable with. But I don't feel if the theatre is one-quarter full, if that's worth doing it for me.
'I'm going to wait until everyone feels comfortable gathering so you can relax and have a good time. I don't want to compromise the experience. People are going to want [stand-up] ... but I want to wait until I can really do it."'
23 Hours To Kill was filmed at the Beacon Theatre in New York just before the city shut down because of the coronavirus outbreak.
It was the second of two specials he was contracted to make for Netflix in a 2017 deal reportedly worth $100million and which also included Comedians In Cars. Jerry Before Seinfeld, released that year, was his first special since 1999's I'm Telling You For The Last Time for HBO.
Last year, Netflix also secured the rights to Seinfeld's hit sitcom in a deal worth a reported $500million.
Published: 5 May 2020
What do you think?