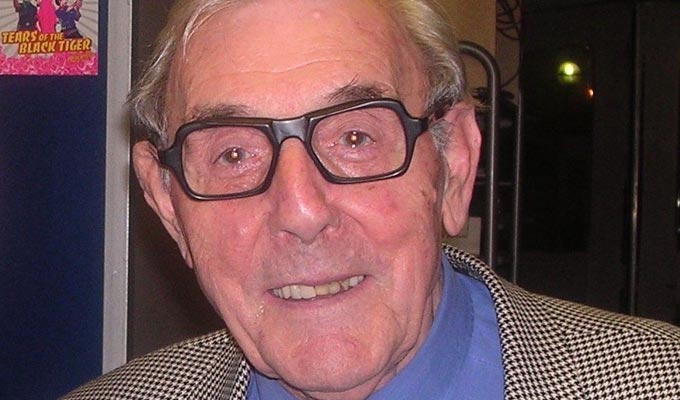 Just released: Eric Sykes' last stage appearance
Bristol's annual Slapstick festival of classic screen comedy has begun sharing previously unreleased footage of its events.
The first session to be released under its Laughter In Lockdown banner is what is believed to be the last on-stage appearance by Eric Sykes, when he was interviewed by Graeme Garden in 2009 about his long career.
Sykes, who died in July 2012 at the aged of 89, is best known for his long-running TV show which co-starred Hattie Jacques. But over a career that started during the war, he also wrote for The Goon Show and worked with Tony Hancock, Tommy Cooper, and countless others
Garden said: 'Eric Sykes was a comedy hero to me. He ploughed an idiosyncratic furrow between mainline comedy and the anarchy of his chums in the Goon Show.
'For much of his career, he was profoundly deaf and relied on a hearing aid mounted in the frames of the heavy spectacles he wore. Later his vision failed as well, but that didn't seem to blunt his enthusiasm or his energy.
'What I admired, apart from his distinctive delivery and physical funniness, was his inventiveness and sense of mischief. And the mischief was still very much in evidence when I had the pleasure and honour of interviewing him in 2009.'
A new video from the Slapstick archives will be released at 10am every Thursday. Future shows include Harry Hill talking about his favourite comedy moments; highlights from when Sir Ken Dodd and French & Saunders received Comedy Legend awards; a stand-up comedy set from John Cleese and the stage reunion of Little & Large.
Slapstick director Chris Daniels says: 'Like so many organisations, we've had to cancel a number of planned events, including some vital fund-raisers. But we have an archive full of funny and fascinating events staged at past festivals – all of them unique, never-to-be-repeated, one-offs shot as they happened.
'We've never released any of them before but now seems a good time to do it.'
Here's the Skyes interview, and Slapstick is also asking for donations to help plug the funding hole here.
Published: 9 Apr 2020
What do you think?