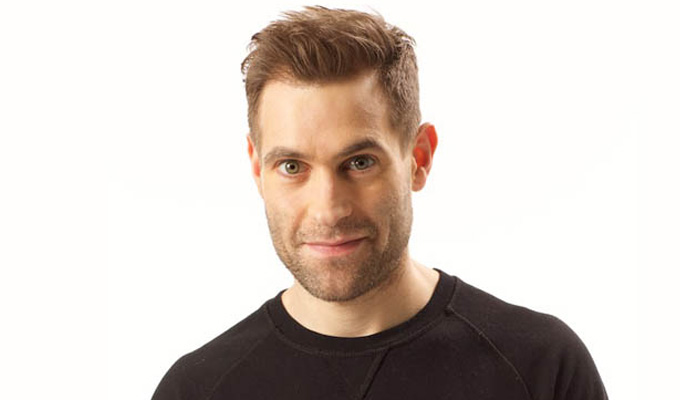 Simon Brodkin says: I have coronavirus
Simon Brodkin has become the second comedian in 24 hours to say he's got coronavirus.
Ironically, both he and Paul Sinha, who earlier revealed he had symptoms he attributed to the killer bug, used to be doctors.
Brodkin, known for his practical jokes and for his Lee Nelson alter-ego, made the announcement on Twitter after rescheduling his tour dates.
The 42-year-old said: 'So yesterday I moved all my tour dates. What I didn't tell you was that I have been holed up in bed for the last couple of days with something called coronavirus.'
He joked: 'I haven't heard of it either. I haven't been hit with it too bad, very hot, very flu-y, deeply regret kissing Idris Elba.
'But I'm getting stronger and wanting to make people laugh again, which is really all that keeps me going. Oh and I have a family, apparently I have two children. All the best, stay healthy, mad times.'
Got Corona. Not a prank. pic.twitter.com/BCEJuiIdv1

— Simon Brodkin (@simonbrodkin) March 20, 2020
He later released another video saying he was on the mend:
Corona update plus a song. pic.twitter.com/jhdgN801zL

— Simon Brodkin (@simonbrodkin) March 22, 2020
Broking hit the headlines for series of pranks, most notably handing Theresa May a P45 during the 2017 Conservative conference.
Sinha said he believed he had coronavirus last night,
Writing on Twitter last night, the 49-year-old Chaser, who also has Parkinson's disease, said: 'Although I cant be sure and i cant be tested it seems likely i have Coronavirus. Started social distancing a few days too late. Anyone upsets me; I'll be around to sneeze in your home.
'As you can imagine I've had a lot of mates. medics or otherwise, in contact. It seems that loads of us may have had it in the last few weeks, but the range of symptoms is very variable. The suspicious symptom, for me, is the exhaustion. New territory.'
This Country's Charlie Cooper previously self-diagnosed with Covid-19, too, and has been keeping himself quarantined.
Published: 23 Mar 2020
What do you think?