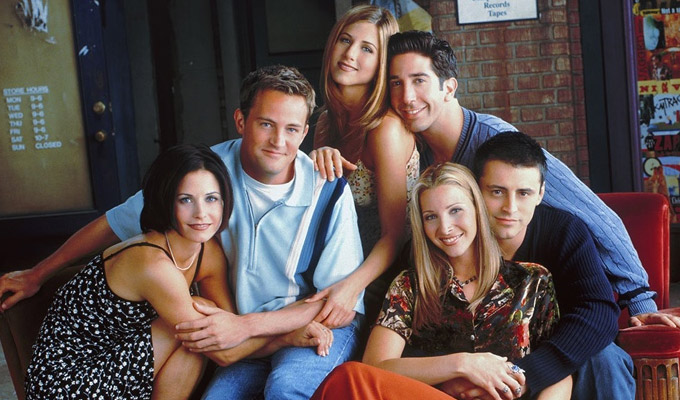 Friends ARE reunited
The cast of Friends are to reunite, more than 15 years since the hit sitcom ended.
However Jennifer Aniston, Courteney Cox, Lisa Kudrow, Matt LeBlanc, Matthew Perry and David Schwimmer will not be making a new episode, but an unscripted special.
Perry broke the news on Instagram with the message: 'It's happening' – which was then shared by the rest of the cast.
Friends aired from 1994 until 2004, with 52.5 million viewers tuning in to its series finale, and it continues to be a hit on Netflix, where it was named the UK's favourite streaming show of 2018.
The reunion, which has not yet been titled. will air on HBO Max. The streaming service, which launches in May has acquired rights to the back catalogue for £339million.
Kevin Reilly, the chief content officer for the platform, said: 'Guess you could call this the one where they all got back together - we are reuniting with David, Jennifer, Courteney, Matt, Lisa and Matthew for an HBO Max special that will be programmed alongside the entire Friends library.'
Reilly became president of entertainment at NBC, the network which aired Friends, just as the series ended.
He said: 'I became aware of Friends when it was in the very early stages of development and then had the opportunity to work on the series many years later and have delighted in seeing it catch on with viewers generation after generation.
'It taps into an era when friends – and audiences – gathered together in real time and we think this reunion special will capture that spirit, uniting original and new fans."
The special will be directed by Ben Winston, the Brit known for his long collaborations with James Corden, including producing The Late, Late Show.
While fans have expressed their excitement about the new reunion, the cast have got back together before.
In 2016, all except for Matthew Perry, who was in a West End play at the time, took part in a televised tribute to director James Burrows. However, it was largely considered car-crash TV, with Guardian reviewer Brian Moylan calling it 'the most intensely boring two hours I have ever endured' an The Daily Beast summarising it as 'mostly awkward interactions'.
And critics had a similar reaction to a reunion of the cast of The Inbetweeners on New Year's Day last year.
Published: 22 Feb 2020
What do you think?