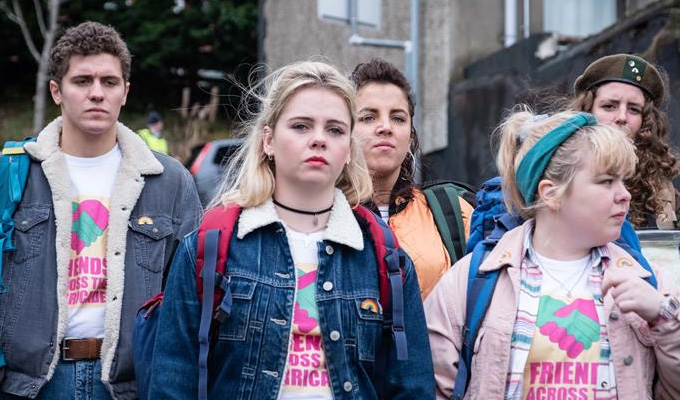 Derry Girls join the intellectual elite
Derry Girls has been shortlisted for a heavyweight literary prize that normally goes to serious historical books or probing investigative journalist.
Lisa McGee's Channel 4 sitcom is in the running for the Christopher Ewart-Biggs Prize, a £7,500 award handed to a piece of work that brings the UK and Ireland together.
It was set up in memory of the British ambassador to Ireland who was murdered by the IRA in 1976.
Speaking for the judges, Professor Roy Foster said: 'The prize has always included drama and television in its remit, and it it seemed important to recognise the serious intent and close social observation behind a comedy series like Derry Girls, hilarious as it is.
'Work like this sits logically with more conventional works of history and fiction, keeping up the prize's tradition of recognising a variety of modes of expression which help to increase understanding.'
The other nominees this year are the Booker prize-winning novel Milkman by Anna Burns, about a young woman being stalked by a paramilitary; Country by Michael Hughes, a modern reimagining of the Iliad set along the border; Patrick Radden Keefe's account of the 1972 IRA murder and secret burial of widow Jean McConville, Say Nothing; Sam McBride's bestseller, Burned about the 'cash-for-ash' scandal that brought down the Stormont Assembly; and Israeli academic Guy Beiner's Forgetful Remembrance: about rebellion in Ulster.
Published: 12 Feb 2020
What do you think?