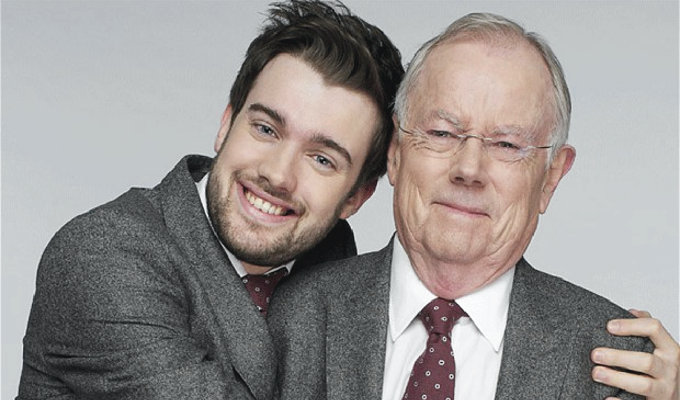 Jack Whitehall's Travels With My Father to return
Jack Whitehall's Netflix show Travels With My Father is to return for a fourth series – this time set in Australia.
The comic and his father, former showbusiness agent Michael, have been shooting during Whitehall's current stand-up tour of Australia and New Zealand, with the new series set to air in the autumn.
Their itinerary has included a visit to an emu farm, a nudist beach and performing in drag together.
'There's been a lot of good banter that we've had on this tour, we've done some pretty crazy stuff' Whitehall told the Nine Network's Today show. 'I tricked him onto a nudist beach on Byron Bay, which he didn't like, it was amazing. I just left him there and the nudists just slowly swarmed …
'We did drag in Sydney… which was amazing. He would only do it as the Queen. I wanted him to go full drag, I had his drag name, he was going to be called Rachel Prejudice. I had the dress picked out but he was like: "I'm only doing it as the Queen". We had this amazing night in Sydney where we did a drag act together.'
Whitehall is performing two shows of his Stood Up tour in Newcastle, New South Wales, tonight, ahead of dates in Sydney, Brisbane, Melbourne and Perth, before returning to the UK to host the Brit Awards for the third time on February 18.
Elsewhere on his antipodean tour, he lamented 'having accidentally turned my family into the Kardashians', while acknowledging that his father now fully embraces his television persona.
'The reality is that the person you see on that show is what he's like 70 per cent of the time. And then 30 per cent of the time he's a very mild-mannered, loving, caring father,' he told Newstalk NB radio in New Zealand.
'The most worrying thing is that the more I travel and the more I grow older, I see myself developing his traits,' the 31-year-old added. 'Which is kind of terrifying. But he's also got the best type of persona. Because he can be in a grump anytime. I can't be in a grump, I have to be friendly all the time because that's the persona that I present.
'And he now gets people coming up to him, and this has happened several times, when we've been travelling in Australia, and he's had people ask him to tell them to "f-off!" … "Can you just film a message for my daughter telling her to f-off!?" That's now [the] catchphrase. So he can be as grumpy as he wants and people love it.
'We had a waiter who was serving us in this restaurant in Sydney and he was like, "oh my God! I love your dad so much! I want everything to go wrong for him tonight. I'm going to make sure everything he gets is the wrong order and I'm going to give him the wrong drinks, I want him to absolutely tear me apart."
'And I was like, "What is this?". I've created a monster.'
In the first series of Travels with My Father, released in 2017, the Whitehalls visited Thailand, Cambodia and Vietnam. The second series, broadcast the following year, followed them across Eastern Europe, while the third, released in September, took in their trip to California and Arizona – but comprised only two episodes.
Both Stood Up and a festive Netflix special, Christmas With My Father, released in November, culminate in a routine where Whitehall recreates his school nativity dressed as an emu.
However, having 'extensively' researched the birds, when he visited an emu farm he was 'tricked' into giving one a neck massage in front of the cameras with a motion resembling masturbation.
Christmas With My Father was Netflix most watched comedy special in the UK last year. And the Whitehalls also spun their relationship into a recent advert for Land Rover, The Knob:
The comic's global standing is set to further increase with his role in the heavily trailed Disney film, Jungle Cruise, alongside Emily Blunt and Dwayne Johnson, finally set to be released this summer, plus a voice part in the animated children's film, Clifford the Big Red Dog, expected to hit cinemas at Christmas.
by Jay Richardson
Published: 6 Feb 2020
Recent News
What do you think?