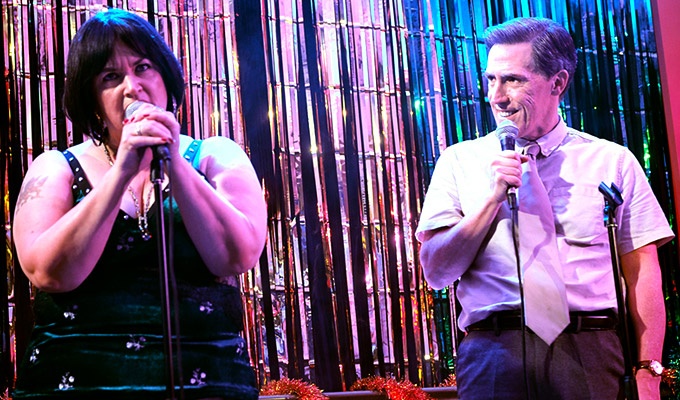 We don't want to reward 'homophobic' Gavin & Stacey
Gavin & Stacey could be denied a major comedy award – because it included the Pogues song Fairytale Of New York.
Industry insiders voting for the Broadcasting Press Guild awards were told that the sitcom was 'problematic' because it showed Rob Brydon's cheery character Uncle Bryn singing the 'homophobic' line: 'You scumbag, you maggot, you cheap lousy faggot' in a karaoke scene.
The panel of reviewers who draw up the longlist of shows on which Guild members vote admitted they did not want to include James Corden and Ruth Jones's sitcom – but was overruled by an executive committee.
Incredibly, the panel also raised questions about the 'quality' of the Christmas Day show, which was seen by more than 17 million people, making it the most popular scripted programme of the last decade.
According to today's Mail on Sunday, Guild chairman Jake Kanter told those voting on the long list: 'Our critics committee felt strongly that the show should not be included, raising serious concerns about its quality and its decision to feature an uncensored homophobic lyric from The Pogues' song Fairytale Of New York.'
And they were told they 'may wish to consider this debate when voting' for best comedy.
After complaints were first raised about the inclusion of the song, the BBC took great pains to explain the context.
They said: 'Fairytale of New York' is a well-established, much-loved Christmas song which tells the story of a troubled couple in 1940s New York. The descent of their relationship is reflected in the increasingly abusive and offensive terms they use to address each other; insults which are intended to reflect the language that such characters might have used in that era.
'The origin of the word includes a definition which describes it as a contemptuous and antiquated word for laziness, and the author of the song has cited this inference behind his inclusion of that line.
'While the word "faggot" is now widely acknowledged as having the potential to offend, the song never suggests or implies that this is, or was ever, an appropriate way to address another person, nor does it link it to homosexuality. Nessa and Bryn were seen singing the original lines and we can assure you there was no intention to offend viewers.
'We understand that some people will find it offensive in any context but we also recognise that the song is widely played and enjoyed in its original form. [Regulators] Ofcom have previously stated that they feel it is "unlikely that audiences would widely perceive [the song] as a serious attempt to denigrate the homosexual community".'
The Broadcasting Press Guild – an association of journalists who write about media – typically hand out their awards in April.
Read our review of Gavin & Stacey here.
Published: 26 Jan 2020
What do you think?